RE:Uncategorized pics
i forgot that part they also arent listed with a category either that needs to be placed too.--Salubri (Talk) 22:11, October 17, 2010 (UTC)
Thats the part i cant figure out, play around with it and see what works. --Salubri (Talk) 00:06, October 18, 2010 (UTC)
User in need
There is a user that left a message on my talk page having to do with help figuring out the new site layout. I am currently busy with other site stuff so i cant really help on that point. If you could handle that it would be great thanks. --Salubri (Talk) 05:16, October 23, 2010 (UTC)
Re:Problem uploading pictures
I can't get it to show up properly. Clicking on the thumbnail of the previous versions makes it look like you uploaded a smaller version rather than replaced it with a bigger one, which obviously isn't the case. Only thing left I can think of is to upload it as a new file and I'll delete the old one (if the new one shows up properly). ~~Ууp <talk> 22:35, October 28, 2010 (UTC)
No need. I got it. ~~Ууp <talk> 11:34, October 29, 2010 (UTC)
Project for you
Hey Lia I have something for you. Though you dont commonly do so and may even be a bit apprehensive about it at first I figured as your not in charge of any particular project this would be a perfect chance to get you to become a little more well rounded in site edits. Namely the Bleach Wiki:Fight Summary Project. I find there are increasingly overwhelming amounts of information on fights in bleach yet to be taken care of namely the anime arcs. In light of that to get them we need to finish the manga ones with the first arc agent of the shinigami being the only left to finish. One more fight really is all thats left if is one actual fight. But other then that what I wanted to see you work out is the main fight summary. In this case The Death Trilogy Overture: Death & The Strawberry. This is basically the overall rundown of what takes place in the arc. For an example of how to do it check the Ryoka Invasion. Its basically separated into different categories of storyline time. Prelude, Early Stages, Middle Stages, End Stages and Aftermath. The various stages should be no longer then 5 reference points when means simple summarizing of arc info. highlighting the main points. What I would like is for you and Godisme both to collaborate on this. You should actually find that its not as hard as it seems especially if you use the information already provided by the fights and events within the overall arc. If you have any questions feel free to ask. --Salubri (Talk) 16:38, October 30, 2010 (UTC)
Happy Tree Friends Wikia Needs Your Help!
I know that Happy Tree Friends is clearly erelavent to Bleach, but their wikia needs alot of help from other admins due to people trashing their site, and adding fan made media. The admins from their site are trying their best to prevent this, but they really need help. Heres a blog post so that you can see in: http://happytreefriends.wikia.com/wiki/User_blog:Dymandafan664/A_Message_to_all_the_Wikia_users_here_(expect_all_the_HTF_Haters,_ruiners_of_pages_and_fan_mans) when I was reading this, it was truley astonishing. If we help them, then there will be alot of friendship and help amongst their wikia and ours giving us both an opertunity to rely on eachother for certain things. The reason why I'm messaging you this is because I am not an admin, and you are. Please, http://www.happytreefriends.wikia.com needs your help!Luigi'○G.'Lamborgini
Fight Summary
Well, I am no longer busy so I am good to start on this fight summary. How do you want to divvy up the work?--God (Pray) 16:40, November 3, 2010 (UTC)
That sounds good. Why don't we go section by section, whichever of us can get to it first takes the prelude, then the other takes the next section and so on unless you have any other suggestions--God (Pray) 23:15, November 3, 2010 (UTC)
Yeah, I loaded up the first chapter and will start writing it in a minute. The intro looks good--God (Pray) 03:01, November 4, 2010 (UTC)
Urggh, I hate when people repeatedly ask the same question hoping for a new response. I took care of it.--God (Pray) 03:09, November 4, 2010 (UTC)
Alright, prelude is done, check it out and see if you think anything needs to be changed and then the next section is yours.--God (Pray) 03:51, November 4, 2010 (UTC)
Alright, I feel you on the paper. I have a 12 page paper due on tuesday, a 2 pager on wednesday and a 2 pager on thursday. I won't be starting until monday most likely--God (Pray) 04:04, November 4, 2010 (UTC)
Hey, I may not be able to work on this for a day or so. My laptop has a pressure crack and I can't see anything on it. I should have access to a computer tomorrow though--God (Pray) 01:03, November 5, 2010 (UTC)
Its fine. I will try and do my next part tomorrow. I have a concert tonight so I won't be able to get to it. After that, I might not be able to work on it again until friday. I have papers due on tuseday, wednesday and thursday so we'll see. Get your end done when you can. No rush.--God (Pray) 20:32, November 7, 2010 (UTC)
I got a chance to look over the early stages. Only problem is that its too long. Remember Salubri said each section should be no more than 5 references. Just give it a look over and be more vague. Other than that its good.God (Pray) 02:24, November 9, 2010 (UTC)
Well, it took me a long time but the middle stages are finished. Sorry, its been a hectic week. The end stages are yours, its Uryu and Ichigo vs The Menos, Ichigo vs. Byakuya and Renji and Trials of the shattered shaft up until Ichigo regains his powers. I'll write the aftermath paragraph basically just saying Ichigo and friends went to Soul Society to rescue Rukia and stuff like that. Update: I added pictures to my sections of the page. I didn't want to mess with yours. --God (Pray) 17:59, November 12, 2010 (UTC)
Well, I tried making it basic so what you see on there already is the best I could do. I just took the most important details of each event and put them down and that's what I got. I'm not really sure I could cut anymore.--God (Pray) 16:42, November 14, 2010 (UTC)
All right, I wrote the aftermath. I was not sure if it should be referenced though because both the Ryoka Invasion and Arrancar Invasion do not have references in their aftermaths.--God (Pray) 21:55, November 15, 2010 (UTC)
Well Congratulations!!!, you two did it. So how does it feel putting together one of the event summaries, one of the hardest versions of the fight summaries. Im surprised you guys did real well. It came out perfectly. Good Job. It wasn't too hard I watched the whole process, you two didnt seem to need any help and it worked out real well with the two of you supporting each other. I only wish that other users worked at that level maybe the article improvement page wouldn't be full of articles that aren't getting handled. In any case I hope that you have relieved yourself of any anxiety you have about doing work like this. --Salubri (Talk) 02:35, November 16, 2010 (UTC)
bleach village in Namco Namja Theme Park
This is really cool, damn wish I could go. http://bleach.wikia.com/wiki/User_blog:Lemursrule/Bleach_village_in_Japan...OMFG_THEY_HAVE_GRIMMJOW_%26_GIN_ICE_CREAM! --Lemursrule (talk) 21:49, November 8, 2010 (UTC)
Re: Edit Summary
I don't see any edit summaries on the Wiki Activity page either, but they show up fine on Recent Changes and when viewing the diff. Don't know whats up with that. Wikia has been very buggy this past week (especially when trying to add/change categories or try to do anything at all on Bleach Answers). They must be working on something and its having a bad effect. Better not go on for much longer as the categories on Bleach Answers are getting messes up too much. ~~Ууp <talk> 16:07, November 19, 2010 (UTC)
Still buggy for me - only 5 of the edit buttons above the edit window actual show up (sometimes they're not there at all). I think this has been going on for too long to be something that is going to sort itself out. I'm sending a notice to wikia about the problems here and on Bleach Answers. Hopefully they'll get to it soon. ~~Ууp <talk> 15:46, November 22, 2010 (UTC)
Hey
i usally watch the anime at www.watchanimeon.com. --Salubri (Talk) 15:14, November 20, 2010 (UTC)
Promoting Feat. Votes in New Look
As we found out last month, one of the problems with the new look is site-wide communications. So to make sure that users see it, when you make your weekly blog please include a notice to the following effect:
Voting is open for December's Featured Article, Featured Picture and Featured Quote!
But remember to follow the Voting Policy otherwise your vote will not count. Main points - members must have been actively contributing to the wiki this month, must be members for over 1 month, must give valid reasons and vote for article quality instead of favourite characters.
Thanks, ~~Ууp <talk> 15:43, November 22, 2010 (UTC)
Thats great, thanks. As I said to Lemuresrule, place it wherever you think is best and use whatever wording you wish - doesn't matter so long as its mentioned. Good to know the blue box thing does work for the community corner. Thanks again, ~~Ууp <talk> 11:37, November 23, 2010 (UTC)
RE: Early Episodes
Hey Lia!! Yeah a lot of hard work goesi nto finding the good quality pics and resorted to YouTube!! There's a user there by the name of MitchAV66 decided to add earlier epsiodes this year so they seem to be good quality, been quite lucky to find him because trying to get pics of Mizuiro!! Just found him tonight so was lucky!! I can't say for certain if all his episodes will be great quality or if he has all the earlier ones but so far so good for what I've needed!! Hope that helps!! SunXia (talk) 04:08, November 23, 2010 (UTC)
Ishida
Great work on Uryu!! His article is looking awesome now!! I like it when some becomes so much better than it was!! Though, question, what do you think should be done to that image of Orihime and her powers in her P&A section since it is against our policies?? Maybe if we can swap around or use some images in her gallery?? SunXia (talk) 06:29, November 26, 2010 (UTC)
Bleach Village in Namco Namja Theme Park (update)
Hey I wasn't able to find any videos inside Bleach Namja, but I got the next best thing. I found a new promo video showing the EXTREMELY LONG LINE to enter Bleach Namja, and I posted it in my food blog. Plus the current flame war between Ichiruki and Ishihime shippers about unconfirmed spoilers for the new movie is HILARIOUS! --Lemursrule (talk) 01:56, November 30, 2010 (UTC)
Birthday Card
That card had me cracking up. Nice work--God (Pray) 07:36, December 1, 2010 (UTC)
OMG the card is absolutely adorable! A Happy Birthday to one of the coolest Espada EVER! --Lemursrule (talk) 13:27, December 1, 2010 (UTC)
I had an idea for Ulquiorra Christmas cookies. I would put Ulquiorra in a little Santa suit, that way he would be red and green. I decided to talk about it in my blog, plus my idea for the best Bleach OVA ever! --Lemursrule (talk) 02:26, December 2, 2010 (UTC)
Shuren
1) Thank u for the translation page, I very much appreciate it.
2) I didn't know there was another pic of him, and I apologize for not looking first.
3) I saw I forgot to post my sig, this time i'll remember.
Z 12:48, December 2, 2010 (UTC)
Happy Holidays from Ulquiorra
I have been obsessed with drawing Ulquiorra in a Santa suit. Well, I finally did it! I modified his standard Espada outfit and removed his mask and replaced it with a Santa hat. Hope you enjoy it! --Lemursrule (talk) 02:01, December 5, 2010 (UTC)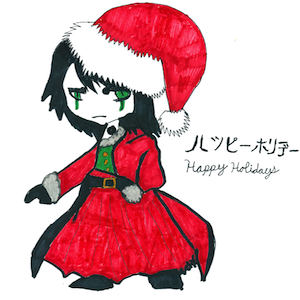 I just found a small portion of the talk show with the Seiyu at Bleach Namja town. It's short, but it's better than nothing.
Just start the video at 5:48 --Lemursrule (talk) 02:43, December 5, 2010 (UTC)
Blog Comment
Might be worth reporting it to Wikia using Special:Contact if it has been affecting you for that long. ~~Ууp <talk> 15:30, December 7, 2010 (UTC)
Article Improvements
Seeing as their is a lack of activity in actually improving the articles from common user and committee members alike apparently there needs to be some form of drive to make sure these things get done. That being said in the article improvement section there is a listing specifically in reference to the quincy. Basically showcasing some quincy articles that need help. In general this help is plainly references. Nothing to extensive just that they are not all properly referenced. Pretty simple to do and considering its just looking up the reference it should be done quickly. When that is completed let me know so i can go over it and we can move on to the next assignment. --Salubri (Talk) 20:31, December 13, 2010 (UTC)
Hell Chapter Ost
Found this full ost should be up by tonight or early tomorrow. Here is my favorite track, this will be used for Ichigo Vs Aizen, I know it! http://www.youtube.com/watch?v=TD6ACarOUTQ --Lemursrule (talk) 23:52, December 14, 2010 (UTC)
Update Full ost is up here are the links
--Lemursrule (talk) 21:14, December 15, 2010 (UTC)
Temporary Blog Solution
So I see you are having the same trouble I am with blogs. For now, the remedy I have found is that each new post disappears and brings the one before it back. SO if you want to read a comment, comment yourself first, exit out and then go back in and it should be there. Wikia has said that they have been updating the blog system. P.S- if you ever want to contact Wikia, it can be done so through Special:Contact--God (Pray) 03:49, December 16, 2010 (UTC)
Alright, I am now in contact with Wikia on this issue. If you could please see Forum:Blog Comment Problems, we can hopefully get this issue solved soon--God (Pray) 04:33, December 17, 2010 (UTC)
Gin' s Succesor
Hey, why did You reverted my edit? Wasn't Amagai Gin's direct succesor as The 3rd divison Captain? This is even stated atleast twice in Amagai's article, so why? And please don't say it's because Amagai's an anime-only character or the Amagai arc doesn't fit into storylne, because that justification is just stupid. --Nekosama (talk) 11:40, December 16, 2010 (UTC)
Merry Christmas
I wanted to wish you a Merry Christmas. --Salubri (Talk) 18:28, December 25, 2010 (UTC)
Just wanted to wish you a happy and safe "Bleach-tastic" Christmas. --Lemursrule (talk) 18:47, December 25, 2010 (UTC)
Merry Christmas! I hope you have a wonderful holiday! Arrancar109 (Talk) 19:15, December 25, 2010 (UTC)
Merry Christmas! I hope you are having a great holiday too! Tinni (Talk) 23:36, December 25, 2010 (UTC)
Hey. Merry Christmas and happy new year :) WD Converse 00:18, December 26, 2010 (UTC)
Merry Christmas Lia--God (Pray) 03:26, December 26, 2010 (UTC)
I would check mangastream for an extra present. --Lemursrule (talk) 03:36, December 26, 2010 (UTC)
Feature Voting
Time is running out to choose January 2011's Feature Article, Featured Picture and Featured Quote! Don't forget to register your vote. ~~Ууp <talk> 22:34, December 30, 2010 (UTC)
Happy New Year
Thought I'd take a moment to wish our superiors on Bleach Wiki a Happy New Year.

Well, cheers to 2011!!! Aeron Solo (talk) 21:00, January 1, 2011 (UTC)
Death Note
So in the absence of Bleach, I started to read Death Note last night. I finally got to where L reveals his face and I have to say that he looks nothing like Ulquiorra like so many people keep saying. Do you think he likes anything like Ulquiorra because I just don't see it?--God (Pray) 20:27, January 2, 2011 (UTC)
Advertisment
Hey, next time you do a blog on the manga chapter, can you please advertise the Cut & Paste Jobs are have available through the Bleach Wiki:Article Improvement Project. Something along the lines of, this is a really simple job, just a little tedious and time consuming but great way to help the wiki and up your edit count. Thanks! Tinni (Talk) 11:22, January 17, 2011 (UTC)
Thanks! Tinni (Talk) 11:31, January 18, 2011 (UTC)
Project Round 2
Hey considering the good job that was previously done and the fact that you have gotten the hang of it. You and Lia should find the creation of the Invasion of Soul Society easy. Especially because its largely shorter then any other event. Whatever you two can coordinate would be good. --Salubri (Talk) 04:53, January 18, 2011 (UTC)
Yeah, that works. I am a little bogged down with school right now(why did I ever decide to double major?) so it might take me a little time in between points when I can really sit down and work on it but we'll get it done. --God (Pray) 05:21, January 20, 2011 (UTC)
Sounds good. Why don't we start it the same as last time. You take the intro, I'll do the prelude etc. I do not know if I will be able to work on it tomorrow but I should be free to get a lot of it down on Friday.--God (Pray) 06:30, January 20, 2011 (UTC)
Alright, I got some time to work on it. The prelude is done so you are up now.--God (Pray) 22:04, January 21, 2011 (UTC)
Alright. all that is left is the End Stages and Aftermath and then we are done. --God (Pray) 21:26, January 25, 2011 (UTC)
That should do it. Add some pics in for the early stage and we'll have to wait in the coming weeks for more pics--God (Pray) 06:37, January 29, 2011 (UTC)
Blogs
Hey Lia, I saw your post on Yyp's talk page. The blogs not showing up is a bug stemming from the upgrade to MediaWiki 1.16. Its affecting quite a few users apparently and Wikia is working on a solution. The blogs are still there, it is just the system is unable to place them on your page. If it is still happening in a few days, I would suggest contacting Wikia and telling them what is going on.--God (Pray) 07:03, January 27, 2011 (UTC)
It sounds to me as if it has taken issue with your username being two words. I've sent a report to Wikia about it. I've grown tired of waiting to see if these problems get sorted out over a day or two. I find it best to let them know straightaway. ~~Ууp <talk> 12:30, January 27, 2011 (UTC)
Article Improvement
Hey your listed your name down on the article improvement project to do work on the Quincy, Hirenkyaku, Quincy Bow & Spirit Arrows, Sanrei Glove. These articles really need to get done there has been considerable time that they have been up and no progress is being made to upgrade them. If you can get to it as soon as possible that would be good thanks. --Salubri (Talk) 23:23, February 3, 2011 (UTC)
I recognize the statement and am certain that it was said somewhere rather than being something I read here. I'll see if I can find it (seems too important for the anime to have made it up, but I'll check a few episodes too). ~~Ууp <talk> 12:03, February 4, 2011 (UTC)
Gif
Done! It's named Hirenkyaku.gif Tinni (Talk) 00:25, February 4, 2011 (UTC)
Well it is a technique so yea it would benefit from it.--Salubri (Talk) 00:59, February 4, 2011 (UTC)
Vasto Espada
Oh, really? Like Who?Hockey Machete (talk) 01:28, February 8, 2011 (UTC)
Work
Ok once again you and Godisme are up. This time for the Bount Invasion.--Salubri (Talk) 04:17, March 4, 2011 (UTC)
So I suppose we tackle this like we always do. This one is a little big so I don't know if we can escape with 5 references per section. I am thinking prelude is mod soul training until Uryu is taken. Early stages is Bounts and Quincy until Ichigo vs. Ichinose and Kariya. Middle Stages is from whatever the next fight is until they enter SS. in Ichigo v. Kariya rematch and End Stages is all of soul society ending in Ichigo's final battle with Kariya. Shall we do it as always with you starting with the intro and Ill take prelude--GodPray  04:35,3/4/2011 
Sounds good. I don't know when I'll get to work on it since I'll be on vacation starting tomorrow but we'll see.--GodPray  05:19,3/4/2011 
Alright, prelude is done. Early stages will start a little ways down on Bounts and Quicy.--GodPray  02:08,3/7/2011 
Hmm, I was unaware of Dattebayo going down. I know Bleach Get has all the episodes but I cannot speak for their quality. If they are not very good, I can try and put all the episodes into a megaupload download and give you a link. Also, check out the committee talk page, we are voting on adding SunXia.--GodPray  02:11,3/9/2011 
New committee Nomination
Hey, Jirachiwish has nominated himself for the committee. Can you please go show your support or opposition on the on the talk page topic. Thanks! Tinni (Talk) 13:47, March 4, 2011 (UTC)
Hey, while discussing the above mentioned nomination - the talk drifted to adding SunXia. She's been contacted and we are not voting for her. Can you please let your sentiments be known about her asap here? Thanks! Tinni (Talk) 23:03, March 6, 2011 (UTC)
Re:Earthquake
Seems someone has already set up a blog about it. I'll link the message I put in the main page news section to it. ~~Ууp <talk> 11:43, March 12, 2011 (UTC)
Needs Work
Hey Lia after looking at the Invasion of Hueco Mundo I noticed that the Szayel and Nnoitra fight pages were way to long. So i separated them into four separate fights. Mayuri Kurotsuchi vs. Szayel Aporro Granz, Renji Abarai & Uryū Ishida vs. Szayel Aporro Granz, Kenpachi Zaraki vs. Nnoitra Gilga, Ichigo Kurosaki & Nelliel Tu Odelschwanck vs. Nnoitra Gilga, while they maintain most of the information and pics there needs to be added pics to various pages as well as fixing the prologue and aftermath sections. If you can work that out it would be good, it shouldn't be any real big issue as most of the work is pics. The prologues if they need work should possibly be taken from the information already there as its all the stuff before the actual fight. Afterwords dont need to be long as they are just summaries of what directly happened after the fight. Thanks. --Salubri (Talk) 02:15, March 24, 2011 (UTC)
As for the Bount Invasion and similar arc events you dont really need to go back and go over chapters or episodes. The sections are nothing more then summaries of the entire arc with a emphasis on important points. You could literally pull from the fights that make up the chapter which is why I usually wait till most of them are done before having the arc events done. In any case it does cause a problem which will most likely not get done at all considering two committee members who are normally involved in the fight summaries are largely awol. --Salubri (Talk) 15:46, March 25, 2011 (UTC)
Proposition
Hey Lia, I saw your post on Salubri's talk page. I have an idea. I know your time is limited as is mine. You say you don't have the time to work on the Bount Invasion so I had an idea. I can do the Bount Invasion by myself since I know the ins and outs of that arc pretty well now and if you could revise Arrival in Karakura Town, which I was asked to work on since Weedefinition is a.w.o.l. I won't have time to work on both for another week or two and this way both would get done faster. Let me know what you think--GodPray  01:01,3/26/2011 
Salubri
Hey. Salubri just left me a message to say that he will not be able to do too much work on the site for the next while. He says he will still be able to check in regularly, so if there is any queries or problems regarding any of the projects, he should be able to answer them even if he can't do a whole lot of editing. Though he may not be able to respond promptly. ~~Ууp <talk> 19:24, April 2, 2011 (UTC)
Editing
Seeing that you haven't been around to do "Any" work on the sight, you might wanna jump on the many articles needing work in Bleach Wiki:Article Improvement Project otherwise your status will have to go from inactive and after that to no longer a committee member. The amount of committee members not doing anything with no real explanation isn't fair to people who do actually work on the site. This obviously in general is a trend that I have always had an issue with and maybe there needs to be some form of regulation for this. --Salubri (Talk) 20:54, April 28, 2011 (UTC)
Welcome Back
Hey, nice to see you posting about again!! Hope you're ok!! Ican sympathise having been bedridden for the last 9 months but yay I'm back to work now so hope you recover too!! Hope things start going right for you for here on, out and you can come back!! You're missed!! SunXia (Chat) 23:28, May 5, 2011 (UTC)
Resignation
Hey, I don't think it comes as a surprise but I have decided to resign from the committee. I am just not as active as I should be to remain a Taicho. I'll still be available for gif creation etc. I just see no point in remaining Taicho when there is no chance of me becoming fully active any time soon. Good luck with the wiki. Tinni (Talk) 22:42, June 6, 2011 (UTC)
Hey
Hey, where have you been??? havent heard from you in like forever.--Salubri (Talk) 16:07, January 8, 2012 (UTC)
Hey Lia, I don't know when or if you will come back, but I just wanted to leave you something that was horrible, but funny, for you http://www.youtube.com/watch?v=GTrFZE3tNuU (Please don't be mad at me).
Please Come Back Soon, --Lemursrule (talk) 05:23, January 16, 2012 (UTC)
Final Warning
I do not know what has gotten into you, but your behavior of late is absolutely unacceptable. The only time you ever show up around this wiki anymore is to bash people for their opinions. If you disagree, that is fine, and you are allowed to say so, but you have chosen to express your opinion by attacking others multiple times now. So let this be the final warning you have on this. Either express your opinions in a calm and non bashing manner, or you will be blocked from this wiki.--God|Pray04:16,2/14/2013
Lia, telling a person that their idea of fan fiction is really sad is called bashing. You took the side of the people attacking me for stating I did not like a chapter, yes there is a problem here and I am not the only one who noticed it. You are free to your opinion, just don't word it as an insult. P.S, if you want to tell someone they have bad grammar, you should probably fix the numerous grammatical errors on your user page.--God|Pray05:11,2/14/2013
God is very correct in this case as I have also read your post and it really wasn't written very nicely or respectfully at all!!
Lemurs already explained what she had meant by a limited knowledge as in people having less access to knowledge or not knowing where to go to get it, to suggest she was basically calling all fans ignorant is a fallacy as she repeatedly said through her argument that not all fans but a certain group have been doing that, which is true since many people jump to conclusions about characters based on very little!! Her argument is against the speculation we often have to deal with daily!!
And if you disagree with someone you can simply say "I see it this way" instead of calling someone sad, that is highly rude and insulting!! Lemurs enjoys good Fanon, she actually regularly read Fanon so she is able to critically analyze the types of writing and stories she regularly sees without being called "sad"!!
Your post was also highly arrogant, "you're wrong about this" "fix you grammar" or "ProTip" all very condescending and unneeded!! Lemurs is very well justified in her arguments about merchandise given its a big basis on whether a show is usually picked up or let go, the marketability of the characters!! It is a very big influence on the creation of shows and the failure of some and you only have to talk to people within the industry to know this!! Also, Lemurs is human, I've seen you make many a grammatical mistake here, given the amount of text we write and type on a weekly basis, it is going to happen, that's why Editors (IRL) and the Grammar Corner exists: the point gets put across and they come in and dot the Is and cross the Ts so spelling or grammar mistakes do not make her comments any less professional, in anyway so there's no need for "Protip" as if all your edits here or written words are completely infallible!!
So yeah, as God said, nobody is saying you can't state your opinion, but when it is disrespectful and downright insulting towards another user, then yeah you better keep that part to yourself!! Just because you are entitled to an opinion does not mean it can not be Flaming or attacking another user!! In future, do it in a more diplomatic way, if someone presents a critical argument, then present an alternative, the minute insults are flung the argument is lost!! So let's just be nice to people from now on!!

SunXia

 (Chat)

 

06:04,2/14/2013 
You clearly didn't read it then since I wasn't saying anything about your Grammar merely that Grammatical errors happen!! Get over it!! And oh the exclamation points, please hit me where it hurts!! Oh and yeah, you post proves your immaturity, which invalidates your post in Lemurs's blog since you tried to tell her what wasn't a display of immaturity!! And the exclamation points aren't for "emphasis", I don't know where you heard or read that, just shows are aren't very good at researching to make your points!!

SunXia

 (Chat)

 

06:29,2/14/2013 
Unblock
We have unblocked you. I think things just spun out of control that night, and I would like to say that I'm sorry for blocking you unjustly. I don't know if you have any intention of coming back, but if you do, nobody on the Bleach Wiki holds any ill will towards you. I hope to hear back from you soon, Lia. Arrancar109 (Talk) 04:22, May 29, 2013 (UTC)
Spanish Translations
Hi there, Lia. I'm aware that we haven't really had a conversation before, but I have a request to make of you. A user on the wiki has been going around several Arrancar pages and claiming that the translations for the Spanish techniques and names are inaccurate. Now, I wasn't active on the wiki in the heyday of the Arrancar arc, but I believe you were the primary translator when it came to the Spanish techniques, as you are a native Spanish speaker. With this established credibility of yours in mind, would you be willing to evaluate some of the more questionable translations for us?--Xilinoc (talk) 22:51, September 25, 2014 (UTC)
No problem at all, thank you so much for agreeing to do this. Anywho, these are the translations that the user mentioned above took issue with and said user's claims of what the translations should be, separated by page.
Ggio Vega:
Nnoitra Gilga:
Abirama Redder:
Cyan Sung-Sun:
Muda, currently "Molting"
Ulquiorra Cifer: (I've been told he's your favorite, can't blame you)
Latigo, currently "Point of a Whip"
Tromba, currently "Whirlwind"
These are all the translations that the user took issue with before he (presumably) ragequit the wiki due to us not immediately complying with his demands, so there's a good chance that there are more lying around, but I'm not aware of them at the moment and also feel like this is a large enough workload to reasonably ask of you. Thanks again in advance--Xilinoc (talk) 01:27, October 8, 2014 (UTC).
Community content is available under
CC-BY-SA
unless otherwise noted.