---
SHAMELESS PLUG TIME
---
We now have an official Facebook page, where we'll be posting these blogs, the podcasts, and presumably anything else interesting that happens, so feel free to begin following said page so we can further clog your feed. We've also got a Youtube channel, so if you subscribe to that you'll have another way of knowing when we get these podcasts up, as well as an easy way to access the older ones.
---
THIS CONCLUDES SHAMELESS PLUG TIME
---
Song to listen to while reading this chapter: "Land of Confusion" by Disturbed
When you keikaku and the God-Emperor of the Quincy keeps falling for it
So we start off with Ichigo predictably getting rekted by another energy blast that actually destroys part of Sōkyoku Hill. Guess there won't be anymore illogical and power-motivated executions for a while. Yhwach asks the burning question of why Ichigo didn't have Orihime patch him up before he followed him through the portal and chalks it up to a perceived lack of time on his part, though he already told Ichigo that he can't change anything. Suddenly, though, Renji apparently mans up and tries to get a hit on Yhwach with his Bankai, only for Yhwach to just up and blow off one of his arms - presumably to prevent him from unleashing his patented Shakkahō spam strategy. Yhwach decides to make an example of Renji by crushing him, but is stopped by none other than Aizen - who has his Zanpakutō in hand.
Yhwach tries to rile Aizen up by pointing out how he's aiding the total lamers that he once decried, but Aizen just flips him the two-fingered bird and uses the long-awaited 99th Hadō spell, Goryūtenmetsu, the activation of which alone literally ruptures the area around them and creates a dragon. Unfortunately, this is cut short when Yhwach interrupts Aizen's assault by pointing out how Kyōka Suigetsu is cracked and subsequently making Aizen blast off like Team Rocket. Then Ichigo apparently shows up and loses his arm too, because we haven't met the severed limb quota for this month yet, and Yhwach effortlessly stops his next attack with his hand.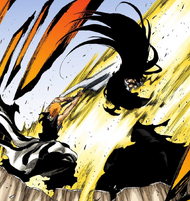 Yhwach yet again details Ichigo's thought process by pointing out his decision to ally himself with Aizen, but since Kyōka Suigetsu apparently didn't do much, Ichigo is ultra-boned. After shattering Tensa Zangetsu like confetti, Yhwach blasts a hole in Ichigo's chest Ulquiorra-style and prepares to completely destroy Soul Society with the power of his special eyes...only for Aizen to dispel his illusions, revealing that he was impersonating Ichigo and is impaled on Yhwach's hand, as Ichigo impales Yhwach from behind and does what he does best: GETSUGA TENSHŌŌŌŌŌŌŌŌŌŌŌŌŌŌŌŌ!
Not gonna lie, this chapter felt like 17 pages of self-aware meming on Kubo's part with the severed arms, the broken Bankai, and of course Aizen's "under the impression" move - but in literally the best way possible. The subtle details that Kubo included to make Aizen's trickery clear pages before it was revealed was really cool, and Aizen himself proved that he's still got it even without his Zanpakutō (which I presume was an illusion when it appeared in this chapter). Also, that Hadō #99. nearly made me weep, even though we didn't see it completed. Tune in next week for archery class with Uryū Ishida.
Thoughts on this chapter?