Toshimori Umesada (梅定敏盛, Umesada Toshimori) is the 20th Seat of the 9th Division (a position he shares with 15 other Shinigami).
Appearance
Toshimori is a large man with a top knot and large sideburns. He sports a large, thick mustache above his lip and thick, arching eyebrows that hang close to his eyes. Above his left nostril, he has a prominent mole. When angry, a vein on the left side of his forehead pulsates.[1] Unlike most 9th Division members, his uniform has sleeves.
Personality
Tosimori is a sleazy, power obsessed man. He takes great pride in being a seated officer, using it to show off to Orihime whom he was hitting on. He believes himself superior to many others, commenting that he is the strongest of the 15 Shinigami he shares his post with. [2] He is easily angered, showcased by when Uryū simply stepped in front of him when he was hitting on Orihime.[3]
Plot
Soul Society arc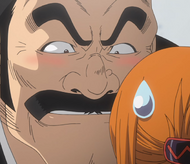 Toshimori leads a squad in order to find the Ryoka within Soul Society. He tells his team that the intruders are tricky and so they should check every corner. Looking at two subordinates, he tells them they have done good work and asks if they are new, as he does not remember them. Orihime Inoue and Uryū Ishida, posing as squad members, tell him that they are and introduce themselves. Looking at Orihime, he mutters to himself that she is not bad and approaches her, asking if she wants to come to his room tonight. He tells her that she has probably heard of him and that he is one of 15 officers sharing the 20th Seat of the 9th Division this year. He then claims that he is embarrassed to say so, but he is the strongest of those 15. He says he will not treat her wrong, but Uryū intervenes, stepping in front of Orihime.[4]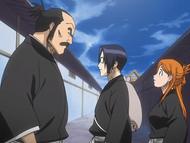 He asks Uryū what his problem is and Uryū says that the intruder problem is so great that war time exemptions were passed. He then tells Toshimori that he does not believe a seated officer has time to do such things at a time like this. Toshimori becomes angry, telling Uryū that an unseated officer shouldn't lecture him. The rest of his team then calls out to him, saying that they found no suspicious people and ask for further instructions. He leaves, saying that he will not forget Uryū and that when this is all over, he will make him feel his wrath.[5]
Powers and Abilities
Zanpakutō
References
Gotei 13

1st Division
Captain-Commander Shunsui Kyōraku • Lieutenant Nanao Ise • Lieutenant Genshirō Okikiba
2nd Division
Captain Suì-Fēng • Lieutenant Marechiyo Ōmaeda
3rd Division
Captain Rōjūrō "Rose" Ōtoribashi • Lieutenant Izuru Kira • 3rd Seat Rikū Togakushi • 5th Seat Taketsuna Gori • 6th Seat Asuka Katakura
4th Division
Captain Isane Kotetsu • Lieutenant Kiyone Kotetsu • 3rd Seats Yasochika Iemura & Hanatarō Yamada • 8th Seat Harunobu Ogidō
5th Division
Captain Shinji Hirako • Lieutenant Momo Hinamori
6th Division
Captain Byakuya Kuchiki • Lieutenant Renji Abarai • 9th Seat Mihane Shirogane
7th Division
Captain Tetsuzaemon Iba
8th Division
Captain Lisa Yadōmaru • 3rd Seat Tatsufusa Enjōji
9th Division
Captain Kensei Muguruma • Lieutenant Shūhei Hisagi • Lieutenant Mashiro Kuna • 20th Seat Toshimori Umesada
10th Division
Captain Tōshirō Hitsugaya • Lieutenant Rangiku Matsumoto • 7th Seat Kōkichirō Takezoe
11th Division
Captain Kenpachi Zaraki • Lieutenant Ikkaku Madarame • 3rd Seat Yumichika Ayasegawa • 10th Seat Makizō Aramaki
12th Division
Captain Mayuri Kurotsuchi • Lieutenant Akon • Hachigō Nemuri
13th Division
Captain Rukia Kuchiki • 3rd Seat Sentarō Kotsubaki • 6th Seat Hidetomo Kajōmaru
Former Members
Left Service
Captain Yoruichi Shihōin • Gin Ichimaru • Shūsuke Amagai • Sōsuke Aizen • Sajin Komamura • Ginrei Kuchiki • Love Aikawa • Kaname Tōsen • Isshin Shiba • Kirio Hikifune • Tenjirō Kirinji • Ōetsu Nimaiya • Senjumaru Shutara • Ichibē Hyōsube

Lieutenant Marenoshin Ōmaeda • Chikane Iba • Seinosuke Yamada • Ginjirō Shirogane • Jin'emon Kotsubaki • Yachiru Kusajishi • Hiyori Sarugaki

4th Seat Jirōbō Ikkanzaka

Dishonorably Discharged
Captain Kisuke Urahara • 3rd Seat Kōga Kuchiki • 4th Seat Kagerōza Inaba
Killed In Action
Captain-Commander Genryūsai Shigekuni Yamamoto

Captain Retsu Unohana • Kenpachi Kiganjō • Jūshirō Ukitake

Lieutenant Chōjirō Sasakibe • Sōjun Kuchiki • Nemu Kurotsuchi • Kaien Shiba

3rd Seats Heizō Kasaki & Miyako Shiba • 4th Seat Shinobu Eishima • 6th Seat Izaemon Tōdō