The Mod Soul Incident
| | |
| --- | --- |
| Date: | Middle of May to Middle of June |
Outcome
Participants
Other participants:
The Mod Soul Incident is an event during the Agent of the Shinigami arc which introduces the use of a Mod-Soul named Kon as a means to separate Ichigo Kurosaki's soul from his body.
Prelude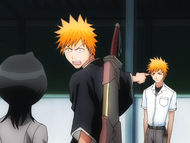 After spending several months in the Human World, Rukia Kuchiki realizes it won't be long before someone of the Gotei 13 will come after her. She also realizes after all that time she hasn't regained any of her former powers. She decides to find a method for Ichigo to separate his soul from his body unaided.[1] She goes to the Urahara Shop and, using the credit she earned killing Shrieker, she purchases what she believes to be a dispenser of soul candy. When she meets Ichigo in school, she pulls him to an empty yard and forces him to take one of the pills. Once Ichigo's soul separates from his body, his body falls under the control of what appears to be an Artificial soul. Ichigo has reservations about the Artificial soul's behavior, but Rukia receives an order on her soul phone and drags Ichigo away, leaving the Artificial soul within Ichigo's body to his own devices. Back at the Urahara Shop, Kisuke Urahara discovers an open carton in storage that should have remained closed.[2]
School Daze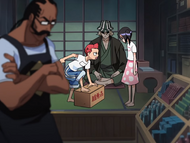 At the Urahara Shop, Ururu Tsumugiya is confronted about her mistake: She delivered a faulty piece of merchandise to a customer. Tessai Tsukabishi and Urahara realize that once the item delivered to Rukia would gain a Human body, it would cause trouble for sure.[3] At the school, the being inside Ichigo's body begins to test his newly acquired body. He kicks in a piece of railing, destroying it effortlessly, but is caught red handed by a teacher, who recognizes Ichigo. Without saying a word, the Artificial soul advances on the teacher, but at the last moment jumps over his head and lands on a rooftop twenty yards away, leaving the teacher stunned.[4]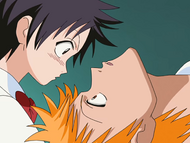 Over at Ichigo's classroom, the girls are getting ready to eat their lunch, which is, as Orihime Inoue says, the only reason teenage girls go to school. Tatsuki Arisawa and Chizuru Honshō get into their usual fight about Orihime when she suddenly gets up from her lunch and walks to the window, having smelled Ichigo, as she says. Tatsuki begins to say Ichigo won't come in through a third story window, but the Artificial soul jumps up to the window from the ground, causing a real uproar among the girls in the room. The Artificial soul is quite pleased with the attention he is receiving, and is most impressed with the looks of the girls in the class, that is until he notices Orihime with her extra-large chest and makes a move on her. When Tatsuki tries to pull him off, he turns his attention to her and notices that she too is quite cute from up close. The Artificial soul gives Tatsuki a kiss on the cheek.[5]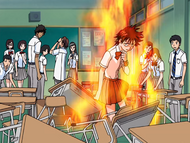 When Ichigo and Rukia return to the school, after defeating the Hollow, they find school desks flying out of the window of their classroom and Rukia is forced to admit that something might be off. The desks are thrown by Tatsuki, aimed at the person she believes to be Ichigo, but he still manages to dodge her attacks. Rukia arrives at the classroom door and blocks the Artificial soul's escape route. Ichigo tries to block the window, but the Artificial soul manages to jump past him and run away. Rukia finds it hard to believe, but says there is no doubt the being in control of Ichigo's body is not an Artificial soul, but a Mod-Soul.[6]
Jumpin' Jack Jolted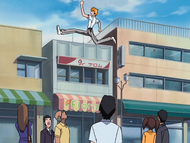 The Mod-Soul manages to outrun Ichigo and Rukia. Ichigo has a hard time accepting what the Mod-Soul did at school, saying the creature destroyed the image he has worked on creating for so long. After calming down, Ichigo asks Rukia to explain about the Mod-Souls. Rukia tells him the Mod-Souls were the product of a Soul Society project called "Spearhead". The project modified Artificial souls and turned them into combat ready spirits meant to be put into dead Human bodies, which will then be used to fight Hollows. Each spirit had a unique superpower to help it fight, the one in possession of Ichigo's body appears to be an under-pod type with super powered leg muscles. Spearhead was deemed inhumane by Soul Society and was canceled before it was ever put into motion. All the Mod-Souls already in existence were set for extermination, but some apparently survived.[7]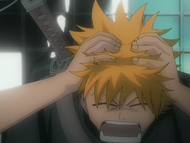 Ichigo is dismayed by the callous way Soul Society creates life and destroys it and asks Rukia if she is comfortable with it. Rukia replies that whether she is comfortable or not, those are Soul Society's orders. She reminds him that those rules were created to protect Human souls and that they still must catch the Mod soul to get Ichigo's body back. Ichigo finds himself wondering how the Mod-Soul might be feeling, having gained a body after being persecuted for so long.[8]
The Mod soul, in the meantime, is celebrating his newly acquired body by leaping through the air, relishing the astonished gazes of the citizens of Karakura Town. His spree brings him near Karin Kurosaki and Yuzu Kurosaki's school, where he encounters three schoolboys: Hashigami, Kaneda, and Ino. The three cut from gym class and hid in a corner where they could play with their game consoles. The Mod-Soul moves in and listens to their conversation. When Ino's game character loses, Hashigami jokingly suggests he erases it, which Ino does, saying he can always create a better character.[9] The Mod soul attacks the boys and breaks their consoles before running away.[10]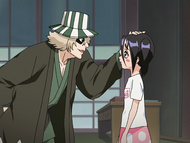 Over at the Urahara Shop, Urahara and his employees are gearing up to go hunt the Mod-Soul. Ururu tries to apologize for the incident, believing it to be her fault. However, Urahara pats her on the head and tells her not to worry about it, since he will fix everything. Tessai informs his manager that everything is ready and the Urahara Shop team heads out.[11]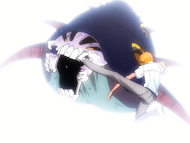 Rukia and Ichigo are busy searching for the Mod-Soul when Rukia gets another order on her soul phone for a Hollow about to attack in five minutes, not far from them. The Mod-Soul is making his way away from the school when he too senses the Hollow behind him and doubles back. He makes it back to the schoolyard just in time to save the three boys from the Millipede like Hollow attacking them. He throws the boys out of harm's way and orders them to run away before facing the Hollow himself. When Rukia and Ichigo arrive at the scene they find the Mod-Soul fighting the Hollow, subjecting Ichigo's body to a severe beating. When Ichigo sees this, he charges in to join the fight against the Hollow.[12]
Aftermath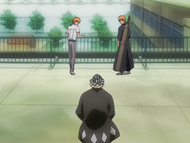 Ichigo and the Mod-Soul fight the Hollow together. After the fight, Ichigo gets to know the Mod-Soul and he and Rukia decide to save him from Urahara, who's come to collect his faulty merchandise.[13] Ichigo names the Mod-Soul Kon and he is put into a plush lion doll, which becomes his surrogate body. Kon becomes an alternate means for Ichigo to turn into a Shinigami.[14]

References