The Death Trilogy Overture: Death & The Strawberry
Outcome
Battles

| | |
| --- | --- |
| | Rukia Kuchiki & Ichigo Kurosaki vs. Fishbone D, Ichigo Kurosaki vs. Hexapodus, Ichigo Kurosaki vs. Acidwire, The Cursed Parakeet, Rukia Kuchiki & Yasutora Sado vs. Shrieker, Ichigo Kurosaki vs. Shrieker, The Mod Soul Incident, Ichigo Kurosaki & Kon vs. Millipede-like Hollow, Ichigo Kurosaki vs. Grand Fisher, Ichigo Kurosaki & Don Kanonji vs. The Demi-Hollow, Yasutora Sado vs. Bulbous G, Orihime Inoue vs. Numb Chandelier, Ichigo Kurosaki & Uryū Ishida vs. The Menos Grande, Ichigo Kurosaki vs. Renji Abarai & Byakuya Kuchiki, Trials of the Shattered Shaft |

Participants
The Death Trilogy Overture: Death & The Strawberry is a major event, consisting of the first time Ichigo Kurosaki meets Rukia Kuchiki, which leads to him becoming a Shinigami in charge of protecting Karakura Town from Hollows, and the life-changing incidents that result from this encounter.
The series of events begins when Rukia arrives at Ichigo's house in pursuit of a Hollow. Injured by Fishbone D, Rukia transfers her Shinigami powers to Ichigo so he can protect his family.
After agreeing to help Rukia protect Karakura Town from Hollows until her powers are restored, Ichigo battles numerous Hollows while his friends begin to exhibit their own spiritual powers.
This culminates in Ichigo scarring a Menos Grande during a duel with Uryū Ishida, which leads to 6th Division Captain Byakuya Kuchiki and Lieutenant Renji Abarai being dispatched from Soul Society to apprehend Rukia. In the process of trying to prevent this, Ichigo loses his Shinigami powers and receives brutal training from Kisuke Urahara in order to regain them. After further training with Urahara to hone his combat skills, Ichigo, along with Uryū, Orihime Inoue, Yasutora Sado, and Yoruichi Shihōin, enters Soul Society to rescue Rukia.
Prelude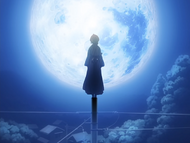 On a Friday in the middle of May, Rukia Kuchiki enters Karakura Town at 2:23 A.M. in search of a Hollow, whose exact location she is unable to pinpoint.[1] At 7:30 P.M. that same day, Ichigo Kurosaki beats up and frightens some teenagers who knocked over a vase of flowers left out for a dead girl, who thanks him for his help. After coming home to the Kurosaki Clinic, Ichigo gets in a fight with Isshin Kurosaki, who admonishes him for arriving late, and goes upstairs without dinner out of spite while his sisters berate Isshin for being harsh on him.[2]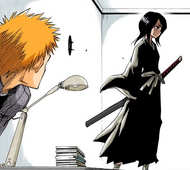 However, as he enters his room, Ichigo is stunned to see Rukia enter it in search of the same Hollow. Initially mistaking her for a burglar, Ichigo is shocked to learn that Isshin cannot see her, leading Rukia to reveal that she is a Shinigami. While Fishbone D devours the dead girl Ichigo helped earlier and senses his Reiryoku, Rukia binds Ichigo with Bakudō #1. Sai and explains the existence of Shinigami and Hollows to him in order to illustrate why she has come here, though she admits that she has lost track of the Hollow she was tracking.[3]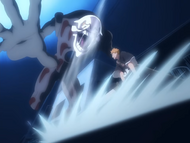 Suddenly, Ichigo hears a bloodcurdling howl, and upon going to investigate, Rukia finds a wounded Karin Kurosaki, who warns Ichigo to get away. Enraged by his family being harmed, Ichigo breaks out of his restraints, to Rukia's shock, and goes downstairs to find Fishbone D holding Yuzu Kurosaki. Ichigo attacks Fishbone D with a baseball bat, but is unable to harm it as Rukia cuts its arm to free Yuzu. However, upon learning that his Reiryoku attracted Fishbone D, Ichigo attempts to sacrifice himself, leading Rukia to be grievously injured while saving him. Unable to keep fighting, Rukia transfers her Shinigami powers to Ichigo, who defeats Fishbone D.[4]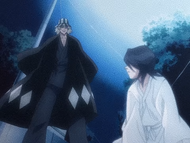 In search of a place to safely conceal his Hōgyoku, Kisuke Urahara approaches Rukia after Ichigo loses consciousness and gives her a special Gigai with the Hōgyoku hidden inside it which begins draining her spiritual powers, with the ultimate goal of turning her into an ordinary Human with no powers at all.[5]

Early Stages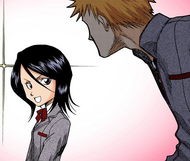 The next day, Ichigo discovers that his family is unharmed despite the damage to their house remaining, which leads him to wonder if he was dreaming. At Karakura High School that day, Ichigo is shocked to find Rukia has joined his class as a student. After pulling Ichigo outside to speak in private, Rukia reveals that she has lost all her power and asserts that Ichigo must take up her Shinigami duties until she regains it. Ichigo initially refuses this, but Rukia takes him to a park where Hexapodus is chasing the Soul of a young boy and forces him to not intervene as she explains that he must be willing to help everyone equally. However, Ichigo turns Rukia's logic back on her due to her intervention the previous night and purifies Hexapodus before agreeing to help her.[6]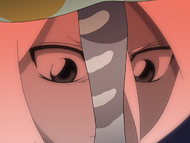 Some time later, Rukia begins trying to train Ichigo, who does not take her training seriously, in order to help him properly fight Hollows. During a chance encounter with Orihime Inoue, Rukia observes a large bruise on her leg and identifies it as the mark left by a Hollow attack, which worries her. Rukia inquires about Orihime's history to Ichigo, who recounts how she had an older brother named Sora Inoue who died three years ago. That night, Acidwire appears in the room and attacks Ichigo. Though he lands a blow to Acidwire's head, Ichigo does not purify him and instead sees Sora's face underneath before he escapes, forcing Rukia to reveal that Hollows are former Humans.[7]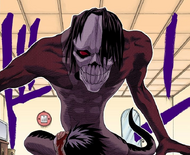 At her house, Orihime eats dinner with Tatsuki Arisawa and discusses her romantic interest in Ichigo. Suddenly, Orihime finds that her teddy bear Enraku has been torn, and when she picks it up and finds blood seeping out, Acidwire pushes her Soul out of her body. While Ichigo leaps over the rooftops toward the house with Rukia filling him in on how Hollows are formed, Acidwire wounds Tatsuki and bears down on her. Though she is not sure what is happening, Orihime intervenes and tries to get Tatsuki's attention, only to learn that she cannot see or hear either Orihime or Acidwire. Angered by Orihime not recognizing him, Acidwire attacks her, but Ichigo manages to arrive in time and intercepts his blow.[8]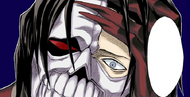 As Ichigo sees that Orihime's Soul is outside her body, Acidwire declares that she is already dead and slams Ichigo into the ground outside the house. Acidwire turns his attention back to Orihime and reveals that he is her brother before explaining how lonely and sad he has been ever since Orihime stopped praying for him after meeting Tatsuki and Ichigo. Despite Acidwire's plea for her to come with him, Orihime only asks him why he hurt her friends, and when an enraged Acidwire proclaims that he will kill her, Ichigo severs his hands and berates him for saying such a thing to his own sister.[9]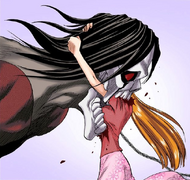 Acidwire recalls how he raised Orihime almost from birth after fleeing their abusive parents and asserts that she can die for him if she will not live for him before attempting to devour her. However, Orihime responds to his attack by wrapping her arms around his head, shocking Acidwire, and explains that she only stopped praying and started telling him about her friends because she wanted him to share in the happiness she experienced in her life rather than the sadness. Experiencing a brief moment of lucidity due to this, Acidwire allows Rukia to begin healing Orihime and uses Ichigo's Zanpakutō to purify himself before he can cause any more harm, exchanging one last farewell with his sister as he crosses over to Soul Society Afterward, Rukia uses her Kikanshinki on Orihime, though its effects do not last due to her Reiryoku.[10]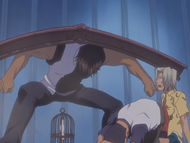 Some time later, Yasutora Sado is introduced to a talking parakeet named Yūichi Shibata who is rumored to curse his owners with bad luck and decides to adopt him after protecting Yūichi and his friends from a falling I-beam. The next day, Sado brings Yūichi to school, where Ichigo and Rukia realize that it has a Soul inside it that they should perform Konsō on later. Later that day, a multi-car pileup occurs at an intersection near the Kurosaki Clinic, and Sado is brought in by Isshin with an enormous, ghastly wound on his back. Though ordered to stay in bed at the clinic while his wounds heals, Sado leaves during the night as Rukia confirms that he was attacked by a Hollow.[11]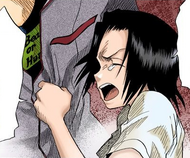 The next day, after learning that Sado is missing from the Kurosaki Clinic, Ichigo asks around for him at school, but is unable to find him there. At her elementary school, an ill Karin vomits in the bathroom and decides to go home early. As he runs around Karakura Town, Ichigo is informed by Rukia that the Hollow cannot be located until it comes back to the Human World to attack Sado, so Ichigo instinctively uses Reiraku to detect the location of Yūichi himself. In an abandoned factory, Sado continues running from the Hollow with Yūichi and promises to save the latter's mother. Upon encountering Karin, Rukia has Ichigo take her home while she goes after Sado alone, but as she leaves, Karin reveals that Yūichi saw his mother get murdered as a boy.[12]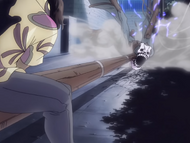 As she chases after Sado, Rukia is confronted by Shrieker, whom she is unable to fight effectively due to her weakened physical body and Kidō powers. Realizing that Rukia is a Shinigami, Shrieker reminisces about the two he has already devoured during their attempts to save Yūichi, leading Rukia to conclude that he is the one pursuing Yūichi. Setting down Yūichi in order to help Rukia, Sado runs back and punches Shrieker away from her, though Shrieker quickly observes that Sado cannot actually see him. When Shrieker takes to the air in order to avoid further punches, Rukia informs Sado of where he is as he breaks off a telephone pole and slams it into Shrieker.[13]
Despite Rukia's assumption that he is outmatched, Shrieker brings out his Targets and has them pin down her and Sado. After Sado frees the two of them with brute strength and Shrieker takes to the air once more, Rukia has Sado throw her at Shrieker to bring him down again, but Shrieker covers her with leeches and detonates them with his tongue, injuring her. Shrieker explains that the leeches act as remote-control bombs and has one of his Targets bring out Yūichi in his cage, leading Rukia to realize that Shrieker is holding him hostage. Shrieker forces Sado to stay still and has Rukia run so he can chase her, but soon finds himself confronted by Ichigo after Rukia leads him away.[14]
As Sado approaches with Yūichi in his arms, Ichigo, having been pushed out of his body by Rukia, outmaneuvers Shrieker's attacks and corners him with his Zanpakutō against the Hollow's neck, where he demands to know if Shrieker killed Yūichi's parents. While Yūichi blames himself for all this because he just wanted to bring his mother back to life, shocking Rukia, Shrieker reveals that he was a serial killer in life whom Yūichi inadvertently killed after he killed Yūichi's mother and explains that he made a deal with Yūichi to bring his mother back to life if he could successfully flee for three months, though he did not actually have the ability to do this. Enraged by this, Ichigo shoves Shrieker's leeches back in his mouth and rips out his tongue.[15]
With Shrieker reeling from this, Ichigo drives his Zanpakutō into the Hollow's leg in order to make him feel the same helplessness as his victims before slashing Shrieker across the face when he tries to escape once more. However, instead of purifying him and sending his Soul to Soul Society, Shrieker's wound summons the Gates of Hell, which open so a demonic entity can impale Shrieker on a large blade and pull him inside while Rukia explains that this is the fate of those who have sinned prior to becoming Hollows. Afterwards, learning that Yūichi cannot be returned to his physical body because his Chain of Fate is completely gone, Ichigo performs Konsō on him so he can see his mother again after he and Sado bid each other farewell.[16]
Middle Stages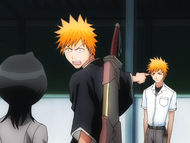 On June 15th, Rukia realizes that she is running low on Shinigami supplies and visits the Urahara Shop to purchase more, where she picks up what she believes to be her Gikon order. Pulling Ichigo aside at school, Rukia explains how this is an artificial Soul which he can use to inhabit his body and avoid arousing suspicion while he is out purifying Hollows. At her behest, Ichigo swallows the pill and is forced out of his body, where he expresses disgust at the overly polite and formal manner in which the Gikon behaves while in his body. However, after Ichigo is dragged off to purify a Hollow, the Gikon, Kon, drops the act while Urahara realizes his mistake.[17]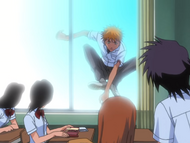 With Urahara planning to neutralize him before he causes too much trouble and draws Soul Society's attention, Kon revels in finally being in a Human body and visits the girls in their classroom during lunch by leaping up to the third floor of the building, to their shock. When Kon begins hitting on Orihime, Tatsuki attempts to restrain him under the assumption that he is Ichigo, only to begin attacking him when he kisses her. Returning to the school to see a desk being thrown out of a window, Ichigo and Rukia move to corner Kon by having Rukia cover the door and Ichigo confront him at the window, but Kon merely leaps down to the ground below, leading Rukia to realize that he is a Mod-Soul.[18]
Though her fellow classmates are outraged at Ichigo's behavior, Orihime firmly asserts that Ichigo is not the one who harassed them, to their confusion. Elsewhere in town, after agonizing over Kon ruining his image, Ichigo asks Rukia what a Mod-Soul is, prompting her to recount the existence of Project Spearhead and its initiative to use dead bodies for fighting Hollows, which resulted in Gikon with superhuman attributes that were eventually slated for destruction. As Kon is angered when he comes across three boys who callously laugh over discarding useless monsters in their video game, Urahara prepares to move out with his crew and reclaim Kon.[19]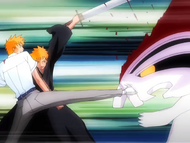 As they search for Kon, Ichigo and Rukia learn that a Hollow is going to appear nearby within the next five minutes. Elsewhere, Kon runs along a rooftop while cursing the three boys for ruining his bad mood, but stops and turns back upon sensing the Hollow approaching. Back at the schoolyard, the Millipede-like Hollow attacks the boys, but Kon saves them and draws the Hollow away to another rooftop. Though the Hollow corners Kon, Ichigo arrives and defeats it with a unison attack alongside Kon, who prevents its body from landing on a line of ants before he explains his pacifist philosophy. When Urahara arrives to reclaim Kon, Rukia decides to keep him.[20]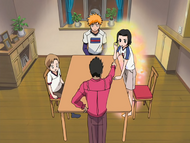 The next day, having put Kon in a stuffed lion doll and given him his name, as he frantically tries to get ready for school after waking up late, Ichigo realizes what day it is and immediately changes his demeanor, but he does not explain why to a curious Rukia. At school that day, Orihime also notices Ichigo's strange behavior, and after confirming the date with Michiru Ogawa, Tatsuki informs Orihime that Ichigo will not be coming to school tomorrow. That night, Isshin gathers his children to assign duties for tomorrow's trip, and Ichigo later asks Rukia if he can take tomorrow off from his Shinigami duties because tomorrow is the anniversary of his mother's murder.[21]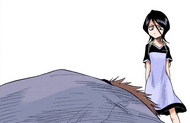 The next day, June 17th, while Tatsuki recalls Ichigo being a cheerful boy before his mother's death to Orihime, Ichigo and his family visit the cemetery where Masaki Kurosaki is buried. Upon finding Rukia there, a flustered Ichigo drags her into the forest to speak privately, and when Rukia presses him on his mention of his mother being murdered under the presumption that it may have been the work of a Hollow, Ichigo firmly denies this being possible, but suddenly runs away upon seeing a young girl standing nearby. After Rukia catches up to him, Ichigo claims that he is the one who killed his mother.[22]
Shortly afterward, Isshin irritates his children by inviting them to play a game of tombstone dominoes while Rukia ruminates on Ichigo's assertion of having killed Masaki and criticizes herself for bringing up such an unpleasant memory with her theory. As he lights incense at Masaki's grave, Ichigo reflects on the events leading up to her death, where he saw a young girl by the flooding river as a child and, due to being unable to tell the different between Humans and Souls at the time, tried to save her, only to wake up under Masaki's bloody corpse afterward. Elsewhere, while Karin comforts a crying Yuzu and encourages her to grow up, she encounters Grand Fisher and his Lure, who prepares to attack Karin upon realizing she can see and hear him.[23]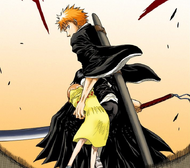 When Isshin attempts to call his children with a whistle, an annoyed Ichigo is the only one to arrive before he senses Grand Fisher's presence, prompting him to run off to protect Karin and Yuzu. While Karin warns Yuzu to stay back from Grand Fisher, who notes that she is really special if she can see his main body, Rukia senses the Hollow as well and realizes that the purification order arrived late as she meets up with Ichigo, where she promises to wait until Ichigo is ready to talk about his mother's death rather than ask him about it. Meanwhile, with Karin pinned down by Grand Fisher, Yuzu attempts to free her, and when Grand Fisher bind her with a tendril and attempts to devour her, Ichigo arrives in his Shinigami form and frees both her and Karin before recognizing Grand Fisher's Lure as the girl whom he saw by the river.[24]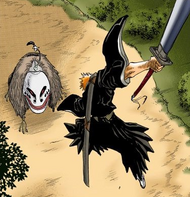 With Grand Fisher revealing his true form and exposing the girl as his Lure, Rukia arrives with Kon and Ichigo's body, which she sets down next to an unconscious Karin and Yuzu, and prints out a record of Grand Fisher's history and victim preference from her Denreishinki, which she proceeds to relay to Ichigo. As he reads the record, Ichigo realizes that he tried to save Grand Fisher's Lure six years ago and that Masaki was killed protecting him from Grand Fisher himself, who simply gloats about his victims and tries to decide which of them to devour first, leading him to attack Grand Fisher while enraged. Though Grand Fisher quickly outmaneuvers him by regenerating his arm and ensnaring Ichigo in his fur tendrils, when Rukia attempts to intervene with Kidō, Ichigo frees himself and demands that she stay out of this fight because it is personal for him.[25]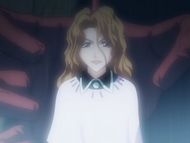 As Rukia honors Ichigo's request and forces Kon's Gikongan into the mouth of Ichigo's lifeless body so he can take care of Ichigo's unconscious sisters, Ichigo continues fighting Grand Fisher, who repeatedly overwhelms Ichigo with his superior speed and combat experience. Ichigo resolves to defeat Grand Fisher despite this due to how his sisters have suffered from Masaki's death, but Grand Fisher simply declares that he is reckless and shoves his talons into Ichigo's chest. While Kon watches over Karin and Yuzu in a nearby shrine under the pretense of being Ichigo himself, Ichigo refuses to give up despite his injuries, only to be left shocked when Grand Fisher transforms his Lure to resemble Masaki while criticizing Ichigo's lack of experience.[26]
Noting the surprise on Ichigo's face, Grand Fisher explains how he uses his talons to probe an enemy's mind and find the one thing they cannot cut, which is what he shapes his Lure into. Meanwhile, at the shrine, Kon convinces Rukia to help Ichigo despite his request that she stay uninvolved, but upon reaching the battle, Rukia realizes that Ichigo is fighting for himself for the first time as a Shinigami and decides to let him preserve his honor after recalling 13th Division Captain Jūshirō Ukitake's advice on the matter. Back on the ground, Ichigo is impaled by Grand Fisher through his Lure after finding himself unable to cut it, but uses the opportunity to slash open Grand Fisher's side.[27]
Having heard the full story from Tatsuki and believing that she now understands Ichigo a little better, Orihime departs in the rain. Meanwhile, at the cemetery, Rukia joins Ichigo on the ground as a critically wounded Grand Fisher lies seemingly defeated nearby. However, Grand Fisher reconnects to his Lure and transfers his main body into it as he reveals that it is actually a second body he can swap between at will. After observing that Ichigo can no longer cut him like this, Grand Fisher flees, and despite his attempts to pursue Grand Fisher and continue the fight, Ichigo succumbs to his grievous injuries and collapses, though Rukia assures an arriving Kon that he will survive due to his vast Reiryoku and thanks Ichigo for not dying.[28]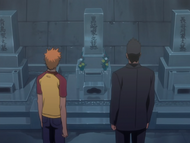 After Rukia returns him to his body and heals the hole in his chest, Ichigo asserts that he lost because he did not fully avenge Masaki's death by killing Grand Fisher and walks off to apologize in front of Masaki's grave, where he is joined by Isshin. When a distraught Ichigo tearfully demands to know why Isshin does not blame him for Masaki's death despite how much Ichigo blames himself, only for Isshin to reveal that he views her death as her having given her life to save Ichigo. With Isshin telling him to live a long life because of this, Ichigo decides to keep carrying out Rukia's Shinigami duties until he can avenge Masaki while Grand Fisher is turned into an Arrancar.[29]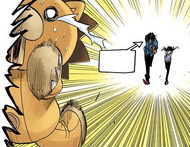 On a later Sunday, Kon becomes fed up of living in the Kurosaki Clinic after Ichigo tries to clean him by beating him against the side of the house and Rukia scrubs him with Karakura High School's bathroom broom, leading him to decide to leave and find a woman who will love him. Shortly afterward, Kon finds Orihime and attempts to coerce her into picking him up, only for her to inadvertently send him flying while playing a baseball-soccer combination with Tatsuki. After being pursued by Sado and Ryō Kunieda when they discover he can move and talk, Kon returns to the Kurosaki Clinic, where Yuzu finds him and cleans him up. However, despite his happiness at this, Kon changes his mind when Yuzu dresses him in girly clothes and gratefully runs back to Ichigo and Rukia.[30]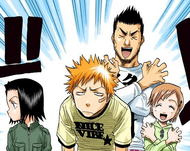 The following month, Ichigo's friends and family are swept up by the craze of spiritual medium Don Kanonji's popular television show, Casual Soul Realm Assault Trip. When it is announced that the show will be taping a special episode at an abandoned hospital in Karakura Town, Ichigo initially refuses to attend it despite his friends' protests, but eventually gives in and shows up at the taping alongside his family so they do not have to come alone. Attending alongside the rest of Ichigo's friends, Rukia explains that the hospital is most likely inhabited by a Jibakurei, a Soul bound to a certain location, which is confirmed when he howls upon having his territory intruded upon by a crew member.[31]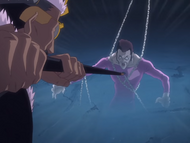 With Ichigo's spiritually aware friends and family growing uneasy as they listen to the howling, The Demi-Hollow makes himself visible outside the hospital while Rukia explains the process of Souls like him becoming bound to objects or people and how they become Hollows by having a hole opened in their chest by their Chain of Fate. As Don Kanonji makes his grand entrance and begins filming the episode, Rukia assures Ichigo that they do not have to worry about the Demi-Hollow becoming a full Hollow for at least another six months judging by his half-opened hole, only for the two of them to be shocked when Don Kanonji begins prying open the hole with his staff.[32]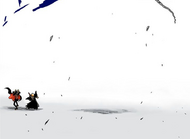 Realizing that this will only accelerate the Demi-Hollow's transformation into a Hollow and possibly cause him to become one right now, Ichigo leaps over the barricade in an attempt to stop Don Kanonji, only to be tackled by the security team. With Rukia restrained by the security team as well when she calls out to Ichigo, the Demi-Hollow's Chain of Fate begins breaking apart as he continues to scream in agony. Suddenly, Urahara appears and pushes Ichigo's Soul out of his body with his cane, allowing him to tackle Don Kanonji and get him away from the Demi-Hollow. However, Ichigo realizes that he was too late as the Demi-Hollow turns white and cracks apart all over his body before exploding.[33]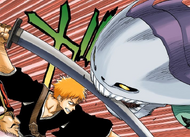 Though Ichigo is not sure what happened, Don Kanonji declares that he has succeeded in helping the Demi-Hollow pass on, to the excitement of his audience. Realizing that Hollows are created by Souls bursting apart and reforming, Rukia scans the area and frantically tells Ichigo to look up as the Demi-Hollow reforms on the roof of the hospital, now a full Hollow. With Don Kanonji assuming this is a demon sent to avenge the Jibakurei, the Demi-Hollow charges down the side of the hospital toward them. Surprised by Don Kanonji pushing him back and telling him to run, Ichigo begins fighting the Demi-Hollow in order to protect him while his friends begin to see him.[34]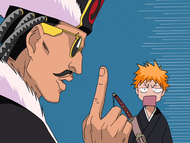 As the Demi-Hollow gets itself stuck in the side of the hospital, Ichigo takes the opportunity to drag Don Kanonji inside the hospital to take the fight away from the bystanders who might get hurt otherwise. Fed up with Don Kanonji's assertions that he cannot run away, Ichigo demands that he explain himself and is impressed despite himself when Don Kanonji details how he aims to inspire the children watching his show and teach them courage. Suddenly, the Demi-Hollow bursts out of the floor, and when Ichigo tries to attack it, he finds his Zanpakutō stuck in the low ceiling of the hospital. With Ichigo's hands stuck to his Zanpakutō, Don Kanonji steps in to protect him.[35]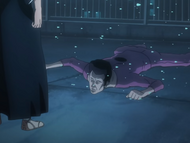 Don Kanonji uses his special technique, Kan'onji-Style Final Super Attack: Kan'onball, to blow up the portion of the ceiling trapping Ichigo's Zanpakutō, which frees him to continue the fight with the Demi-Hollow. After Ichigo embeds his Zanpakutō in its shoulder, the Demi-Hollow runs up to the roof with him in tow, and when Don Kanonji catches up and attracts the Demi-Hollow's attention, Ichigo uses the opportunity to purify the Demi-Hollow. However, upon learning that he inadvertently created the Demi-Hollow with his purification ceremony earlier, Don Kanonji is left despondent, but Ichigo cheers him up by reminding him of his cheering audience.[36]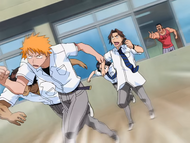 The next day, Ichigo and his friends are called into the principal's office at Karakura High School over the fallout from their actions on the nationally-broadcast show the previous night, where they manage to escape punishment with the help of Rukia. Later that day, Ichigo is caught off-guard when Don Kanonji personally visits the Kurosaki Clinic in an attempt to make Ichigo his disciple, with Rukia having been bribed to tell him where Ichigo lives. While an ecstatic Yuzu distracts Don Kanonji, Rukia and Ichigo run off to purify a Hollow, only to be seen by both Karin, who watches with apprehension from her window, and Uryū Ishida as they pass him.[37]
End Stages
Confused to not find a Hollow at the site of the report they received, Ichigo and Rukia perform Konsō on the Soul they find there instead while Uryū watches from above. At school the next day, Ichigo shocks his friends by placing 18th on his exams out of the entire class of 322 people before being pulled away by Rukia, who has received another Hollow alert. However, the two of them once again fail to find the Hollow after searching all day, and as Ichigo berates Rukia for not fixing her Denreishinki, Uryū approaches them and reveals that he has been the one killing their Hollows, to their surprise, before identifying himself as a Quincy who hates Shinigami.[38]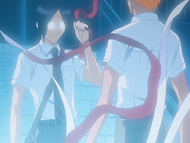 The next day, while his friends find their places on the class exam score sheets, Ichigo expresses frustration at Uryū's attitude, but is unable to recall his first name. Overhearing this, Orihime points out that Uryū is in their class and brings Ichigo to crafts club, where he watches Uryū repair Michiru's stuffed doll and coldly brush off her thanks. After school, Ichigo begins following Uryū home, only to be called out in an alleyway, where Uryū explains that he knows Ichigo became a Shinigami in the middle of May and who Rukia really is. As he uses Reiraku to demonstrate his own spiritual prowess and the unique color of Ichigo's ribbon, Uryū challenges Ichigo to a duel.[39]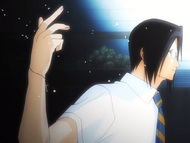 At the Urahara Shop, Rukia visits Urahara, whom she berates for not answering her prior calls before inquiring about the Quincy, whom she has no knowledge of. While Ichigo initially refuses to accept Uryū's challenge, only changing his mind when Uryū mocks him as being unable to do anything without Rukia's permission, Urahara recounts how the Quincy were a clan of Humans with spiritual powers who destroyed Hollows rather than purify them like Shinigami did, which eventually led to their downfall. When Ichigo enters his Shinigami form and accepts Uryū's challenge, Uryū crushes a piece of Hollow Bait and asserts that whoever destroys the most Hollows wins.[40]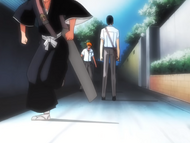 With Hollows beginning to emerge all over Karakura Town as they are attracted by the scattered bait, Uryū warns Ichigo that they will attack anyone with high Reiryoku, and while Ichigo runs off to protect Karin in response to this, Uryū observes that he does not know his friends are developing powers of their own, which is why he will fail. While Tatsuki and Orihime respond to a strange incident at Karakura High School, Ichigo purifies three Hollows in a row and sends Kon off to get Rukia's Denreishinki so he can track them down faster. With Uryū destroying eleven Hollows on his end, Karin and Sado both notice a strange distortion forming in the sky.[41]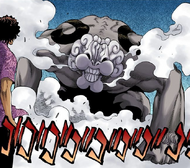 Upon receiving a Hollow purification order that quickly vanishes, Rukia is shocked to see dozens of Hollow markers in the area and wonders what the distortion in the sky means. In downtown Karakura Town, as he walks to the supermarket with his friends, Sado is confronted by Bulbous G, whom Sado quickly realizes is after him and begins luring to a vacant lot nearby. At the vacant lot, Karin, who had been playing soccer with her friends, decides to head home early due to being distracted by the strange activity she is sensing. Suddenly, an out-of-breath Sado reaches the lot, and as he and Karin recognize each other, he tackles Karin to protect her from Bulbous G, who follows close behind and attacks the two of them.[42]
While Karin's friends wondering what is going on, Karin reveals that she can clearly Bulbous G, unlike Sado, and begins helping him avoid the Hollow's attacks. Deciding to act as Sado's eyes while he protects both of them, Karin directs him to dodge another attack and Sado takes the opportunity to attack Bulbous G directly, only for the unfazed Hollow to swipe him out of the air. With Sado seemingly incapacitated by this, Karin attempts to protect her friends from Bulbous G as he approaches. However, as he remembers his childhood in Mexico and the advice of his grandfather, Sado awakens his Fullbring, Brazo Derecha de Gigante, and blasts off Bulbous G's arm with it.[43]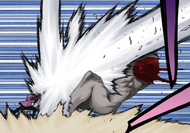 As Karin expresses awe at his new power, Sado runs up to Bulbous G and destroys his head with another blast, killing the Hollow, before collapsing due to having drained his stamina, which prompts Karin to run off in search of Isshin to get him medical treatment. Meanwhile, at Karakura High School, while Tatsuki and Chizuru Honshō clean up glass from windows that were broken by the judo students seemingly against their will, Orihime stares at something they cannot see and suddenly begins pushing her friends away from the school as Numb Chandelier peers down at her.[44]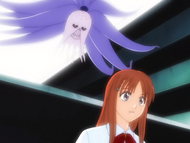 Mentally recounting her terror upon seeing Numb Chandelier and her immediate decision to get herself and her friends as far away as possible, Orihime continues to push Tatsuki and Chizuru away from the school grounds. After Tatsuki runs back inside to change out of her karate gi, Numb Chandelier suspends herself above Orihime, and upon realizing that Orihime can see her, she rains down dozens of seeds, one of which hits Chizuru in the shoulder. Though initially seeming fine, Chizuru begins choking Orihime against her will as Numb Chandelier explains her ability to control others. However, as dozens of other possessed students swarm Orihime, Tatsuki comes to her rescue.[45]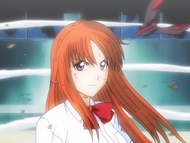 When Tatsuki rapidly defeats several of the possessed students, Numb Chandelier has Chizuru grab her, which causes Tatsuki to hesitate, allowing Numb Chandelier to shoot her with a seed. Despite this, as Numb Chandelier wonders how to punish her for her interference, Tatsuki resists the seed's control and bites one of Numb Chandelier's mask tendrils, which leads the Hollow to shoot her with several more seeds in an attempt to kill her. Fully possessed by the seeds, Tatsuki begins beating up Orihime, who recalls how Tatsuki protected her from bullies as a child. Promising to protect Tatsuki from now on in return, Orihime awakens her power, the Shun Shun Rikka.[46]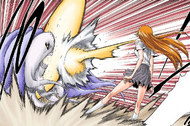 Orihime is initially just as confused as Numb Chandelier by new powers, but with help from the Shun Shun Rikka spirits themselves, who all display their own unique personalities and are largely spoken for by Shun'ō, she learns to use Santen Kesshun to form a shield and protect herself, Sōten Kisshun to heal Tatsuki's wounds, and Koten Zanshun to split her enemies in two from within, which she does with Numb Chandelier, destroying her. As an exhausted Orihime collapses and loses consciousness, Urahara arrives with Tessai Tsukabishi carrying Sado behind him.[47]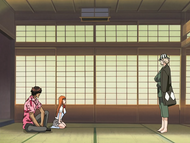 As Karin brings Isshin back to the lot to tend to Sado, she finds that he is missing. Shortly afterward, Orihime and Sado wake up at the Urahara Shop, where Urahara begins explaining the world of Shinigami and Hollows to them, as well as Ichigo's involvement therein. Elsewhere in Karakura Town, Ichigo determines that he and Uryū have defeated enough Hollows to keep Karin safe as Uryū observes that he is growing weaker while the Hollows keep coming. Some time later, Uryū locates Rukia and promises that he will protect everyone even if Ichigo fails. As Ichigo catches up to Uryū and confronts him, Urahara reveals that Orihime and Sado's powers were awoken by Ichigo's presence.[48]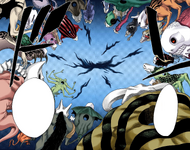 Assuring Orihime and Sado that their powers are not diseases and that they do not need to progress any further into the spiritual world if they do not want to, Urahara invites them to come watch Ichigo in action as he prepares to head out with his crew. Meanwhile, seeing Ichigo confront Kon over his failure to acquire Rukia's Denreishinki, a flustered Uryū accidentally fires a Heilig Pfeil at Ichigo, who cuts through it and assumes that this means Uryū wishes to continue their duel one-on-one. Suddenly, the remaining Hollows begin converging on the distortion in the sky above, and as Uryū runs off to confront them while declaring that he has won the duel, Rukia informs Ichigo that his clan, the Quincy, were exterminated by the Shinigami.[49]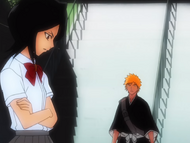 After listening to Rukia's recounting of how the Shinigami exterminated the Quincy in order to protect the stability of both the Human World and Soul Society due to their ability to completely remove Souls from the cycle and upset the balance, Ichigo catches up to Uryū and claims that he now knows the latter's story. However, Uryū dismisses the extermination as an old story and reveals that his grudge stems from how his master was killed by Hollows whom the Shinigami could have saved him from after he spent years proposing an alliance between the two groups. Hearing this, Ichigo declares that he and Uryū need to work together in order to defeat the Hollows.[50]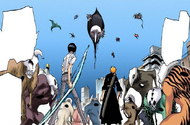 Though Uryū scoffs at the idea of them working together due to their ideological and power differences, he soon changes his mind when Ichigo reveals that he lost his own mother to a Hollow and explains how he wants to protect others from suffering such pain. Ichigo and Uryū resolve to work together so they can fight each other later, but are interrupted when a Menos Grande opens a Kūmon in the sky above Karakura Town. However, as Ichigo and Uryū argue over how they are supposed to handle this on top of the present Hollows, Urahara's crew arrives to help them out.[51]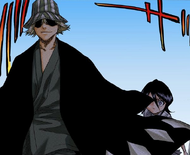 With his employees rapidly wiping out the remaining Hollows, Urahara tells Ichigo and Uryū to focus on the Menos Grande as it begins to enter Karakura Town. As a stunned Rukia elaborates on the Menos Grande's power, Uryū wonders how they can beat such a large enemy, only for Ichigo to begin charging in as Uryū follows him. Seeing this, Rukia attempts to stop Ichigo from getting himself killed, but Urahara binds her with Shibireyubi and asserts that this will be an important battle for both of them. Ichigo manages to cut the Menos Grande's ankle, but it merely kicks him away, and Uryū's Heilig Pfeil prove similarly ineffective. Suddenly, Uryū finds his Heilig Bogen, Kojaku, growing tremendously in size when he touches Ichigo's Zanpakutō.[52]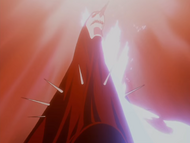 Mentally detailing how this is the result of Ichigo unconsciously releasing his Reiryoku through his Zanpakutō and him absorbing it, Uryū tells Ichigo that he has a plan to defeat the Menos Grande. While Orihime and Sado watch from a building behind them, Uryū ties Ichigo's Zanpakutō to his head and tells him to release all his Reiryoku so Uryū can fire a massively powerful Heilig Pfeil. However, Ichigo reveals that he cannot control his Reiryoku, and when the Menos Grande fires a large Cero at him, Ichigo manages to block it, which causes his Reiatsu to rise as his Reiryoku is condensed, before slashing through it and wounding the Menos Grande.[53]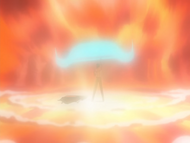 With the Menos Grande retreating to Hueco Mundo due to this counterattack, Ichigo declares victory as Rukia and Uryū look on in astonishment and Tessai praises his power. Meeting with Uryū afterward, Ichigo begins to request thanks from him, but suddenly collapses as his Zanpakutō begins losing its form. Uryū realizes that this means his Reiryoku is going out of control, which could be fatal for Ichigo, and begins siphoning it off and firing massive Heilig Pfeil into the air in order to stabilize it, despite the damage this does to his arms. As Ichigo admits that he cannot beat Uryū up after this, a surveillance drone informs Central 46 of Rukia's location.[54]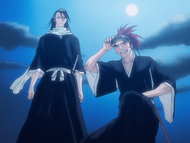 Having been tasked to either capture or kill Rukia, 6th Division Captain Byakuya Kuchiki and Lieutenant Renji Abarai are dispatched to Karakura Town. At school the day after the Menos Grande's incursion, Uryū comes to class late with bandaged arms, to the surprise and concern of his classmates, and Ichigo invites him to eat lunch with his friends while a solemn Rukia has lunch with the other girls. While Yoruichi Shihōin arrives at the Urahara Shop and tells Urahara that "they" are here, Rukia runs away from the Kurosaki Clinic with only a note thanking Ichigo for everything left behind on his desk, only to quickly be found by Byakuya and Renji.[55]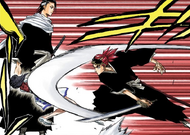 As she runs, Rukia reflects on the afternoon spent with the other girls and attempts to convince herself that emotional attachments are unfitting for a Shinigami. Suddenly, Renji confronts her and demands to know where the Human who took her Shinigami powers is, and though Rukia tries to deny Ichigo's existence and claim that a Human could never take her Shinigami powers, she is further shaken when Byakuya, her brother, appears before her as well. With Renji attacking Rukia and promising to kill her if she does not give up Ichigo's location, Uryū intervenes and introduces himself as a classmate of Rukia's who hates Shinigami.[56]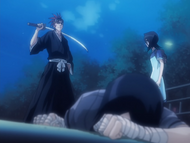 While Uryū tries to claim that he only came across Rukia by coincidence and did not come out upon sensing two Shinigami in town, Renji demands to know who he is, and after some debate, Uryū gives him his name because he feels it is only fair for Renji to know who killed him. At the Kurosaki Clinic, Ichigo finds Kon, who informs him that Rukia has run away, and reads Rukia's letter, which warns him to go into hiding and not come after her. Resolving to go help Rukia upon being told by Kon that she is in trouble with Soul Society, Ichigo receives help in entering his Shinigami form from Urahara. Meanwhile, having defeated Uryū, Renji prepares to kill him, but is interrupted by Ichigo.[57]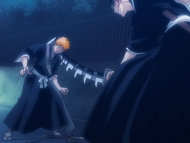 Renji is stunned by the size of Ichigo's Zanpakutō, which should correlate to his Reiryoku levels, and begins attacking him upon learning that he is the one who took Rukia's Shinigami powers. With his far greater combat experience and skill, Renji quickly overwhelms Ichigo and declares that he could not put a scratch on a real Shinigami, only for Ichigo to scratch Renji's chin with his Zanpakutō in response. Berating Renji for dropping his guard, Byakuya reveals that Ichigo is the one who scarred the Menos Grande they were informed of, but Renji laughs this off and, upon learning Ichigo does not know his Zanpakutō's name, releases his Shikai, Zabimaru, before wounding Ichigo.[58]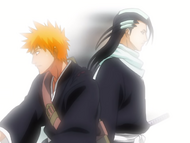 With Renji preparing to finish off a motionless Ichigo, Rukia intervenes by restraining his sword arm and tells Ichigo to run away if he can still move. However, Ichigo instead picks up his Zanpakutō, and as Renji expresses approval of this over slaughtering a defenseless opponent, Ichigo gains a power boost and turns the tables on Renji, who is unable to keep up with his increased speed. No longer feeling pain from his wounds, Ichigo attempts to deal the finishing blow to Renji, only to suddenly find his Zanpakutō missing most of its blade. Having been the one to break off the blade, Byakuya initiates Senka on Ichigo, who is stabbed through the chest.[59]
After Byakuya completes Senka, a heavily bleeding Ichigo collapses. When a distraught Rukia attempts to run to his side, Renji pins her to a streetlamp and warns her that she risks increasing her prison sentence, though Rukia does not care, prompting Byakuya to observe that this is likely due to how much Ichigo resembles "him". Ichigo reveals that he is still alive by grabbing Byakuya's shihakushō, but when Byakuya prepares to harm him further, Rukia kicks Ichigo's hand away and pretends to have had a change of heart to protect him. With Byakuya explaining that his shattering of Ichigo's Saketsu and Hakusui will prevent him from ever being a Shinigami again, he, Renji, and Rukia return to Soul Society, leaving Ichigo to die.[60]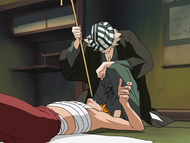 As he bleeds out on the street, Ichigo is rescued by Urahara, who heals Uryū on the spot before bringing Ichigo back to the Urahara Shop to further recuperate. After Ichigo wakes up, Urahara explains the situation to him and assures him of Uryū's safety before relaying the latter's assertion that only Ichigo can save Rukia. Though Ichigo scoffs at this due to having no way to go to Soul Society, Urahara reveals that he does have a way to get Ichigo to Soul Society and promises to tell him if Ichigo trains with him for the next 10 days. Initially reluctant due to his perception of Urahara, Ichigo is convinced by Urahara's critique of his low skill level and agrees to train with him.[61]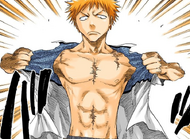 At school later that day, Ichigo observes that no one else seems to remember Rukia and all traces of her have been erased from the Human World. After school lets out for the summer, Ichigo encounters Orihime, who reveals that she remembers Rukia and inquires what happened to her. Ichigo explains the situation to Orihime, and when he expresses doubt over whether it would be the right thing to bring Rukia back here when she never truly belonged, Orihime encourages him to do it because it is better for her to live here than die in Soul Society. With his resolve restored by this, Ichigo runs off as Orihime contacts Sado and finds Urahara in order to begin his training.[62]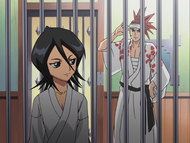 In the Sixth Division barracks in the Seireitei, Renji visits Rukia in the prison ward on his day off, where he tries to assure her that Byakuya will request a pardon for her actions because she is his sister, only for Rukia to state that he is more likely to kill her himself because he has never once looked at her. Back in the Human World, Ichigo enters a training area underneath the Urahara Shop, where Urahara pushes his Soul out of his body and explains that he needs to regain his Reiryoku in order to move about and breathe normally now that he is no longer a Shinigami before tasking him with knocking out Ururu, who delivers a powerful blow.[63]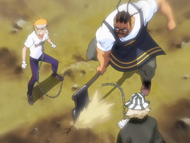 Startled by Ururu's power, Ichigo begins running away and is tricked by Urahara into making a fool of himself. After learning how to don the protective gear that Urahara provided him with, Ichigo realizes that he is outrunning Ururu and manages to dodge one of her subsequent punches, leading him to realize that he can fight back. As he throws punches at Ururu's helmet to complete the lesson, Ichigo accidentally grazes her face, which causes an angered Ururu to kick him into a wall. Declaring the lesson complete, Urahara explains how this life-or-death situation restored Ichigo's Reiryoku before having Tessai sever his Chain of Fate to begin the second lesson. Meanwhile, Orihime and Sado approach Yoruichi for training.[64]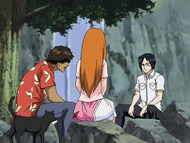 Elsewhere, in a remote area of the wilderness, Uryū prepares to begin his own training in private, only to immediately be interrupted by the arrival of Orihime and Sado. However, when Orihime invites Uryū to train with her and Sado under Yoruichi, Uryū claims that he is only training due to being defeated by a Shinigami and not to rescue Rukia. As Orihime and Sado leave with Yoruichi, Uryū apologizes and asserts that his training cannot be witnessed by anyone. Back under the Urahara Shop, Urahara informs Ichigo that lesson two is about him regaining his Shinigami powers and drops him into the Shattered Shaft, where his Chain of Fate begins undergoing Encroachment.[65]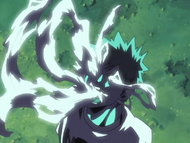 Explaining how Encroachment will turn Ichigo into a Hollow in 72 hours within the Shattered Shaft, Urahara gives him an ultimatum of escaping or dying. Meanwhile, at an abandoned factory in Karakura Town, Yoruichi begins training Orihime and Sado by instructing them to think of what they want to protect with their powers. Though Orihime manages to summon her Shun Shun Rikka through her desire to protect Ichigo, Sado initially does not follow suit. Back in the Shattered Shaft, after a failed attempt to escape by running up the wall, Ichigo is informed by Jinta that 70 hours have already passed, and white fluid bursts from his face as his inner Hollow begins to emerge.[66]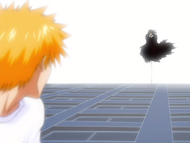 While Urahara requests that his employees refrain from killing Ichigo until he fully transforms into a Hollow, as there is still a chance of him regaining his Shinigami powers, Ichigo is pulled into his inner world and meets Zangetsu, who reveals that he has his own Shinigami powers that were awakened by Rukia's and instructs Ichigo to find them within one of thousands of falling boxes as the world begins to crumble around them. After recalling how Uryū discovered he was a Shinigami, Ichigo uses Reiraku to find the box containing his Shinigami powers, which manifest in the form of his Zanpakutō's hilt that he proceeds to pull out at Zangetsu's urging.[67]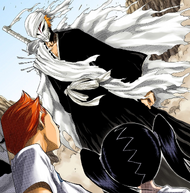 Upon seeing Ichigo breaking out of his Bakudō #99 Part 1. Kin restraints, Tessai declares that he is switching to suppression mode and initiates Bakudō #99 Part 2. Bankin, which wraps Ichigo in several large strips of fabric and impales him with numerous metal bolts. Though Jinta warns him that this could kill Ichigo, Tessai drops an enormous metal cube onto Ichigo, whose bindings are split open to reveal that he has gained a full Hollow mask. As Urahara shields Jinta and Ururu, a torrent of Reiatsu surges out of the Shattered Shaft, and something leaps out and crashes into the ground, where the dust clears to reveal a figure wearing both a Shinigami's shihakushō and a Hollow mask. As Jinta and Ururu prepare to fight, the figure breaks and rips off the Hollow mask to reveal Ichigo, who reveals his vow to kill Urahara as the latter unsheathes his Zanpakutō for lesson three.[68]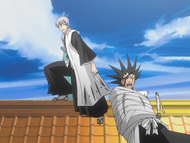 In the Sixth Division prison ward in the Seireitei, Byakuya informs Rukia that she has been found guilty of a capital offense and will be executed in 25 days before leaving. When Renji tries to comfort her, Rukia claims to be unconcerned by her sentence and mocks his eyebrows, causing him to leave in irritation. Outside, as he walks, Byakuya is confronted by 3rd Division Captain Kenpachi Zaraki and 11th Division Captain Kenpachi Zaraki, the latter of whom offers to behead Rukia for the sake of the Kuchiki Clan before being dragged off by Gin to avoid a confrontation. Back under the Urahara Shop, Ichigo assumes that Urahara is not actually wielding a Zanpakutō, but Urahara quickly proves him wrong by releasing his Shikai, Benihime.[69]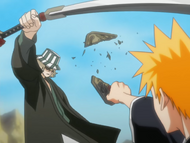 Urahara tells Ichigo that every Zanpakutō has a name and resumes his offense by smashing Ichigo through a rock. As Ichigo blocks his subsequent attack with his broken Zanpakutō, Urahara praises his bravery in doing so, only to cut off half the remaining blade and shatter the remainder of the Zanpakutō with another strike shortly afterward, leaving Ichigo holding just the handle. Promising to kill Ichigo if he keeps fighting with that, Urahara continues to pursue and attack Ichigo, who finds himself confronted by Zangetsu. After noting that Ichigo should be able to hear his name now, Zangetsu asserts that the only thing plugging Ichigo's ears right now is fear.[70]
As he stops running, Ichigo turns and calls out Zangetsu as he unconsciously releases his first Getsuga Tenshō, surprising Urahara. The dust and energy clear to reveal Ichigo kneeling with his Shikai, Zangetsu, and as Urahara declares that they can properly begin lesson three now, Ichigo asks him to dodge as best he can before unleashing another, more powerful Getsuga Tenshō, which forces Urahara to block with Chikasumi no Tate. In the aftermath, Urahara observes his damaged hat and the deep chasm cut into the ground by Ichigo's attack as he proclaims lesson three cleared. Simultaneously, Uryū, Orihime, and Sado complete their own training.[71]
Aftermath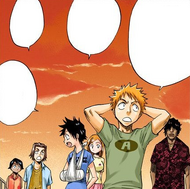 On August 1st, the day after the conclusion of Ichigo's training with Urahara, he reunites with Keigo and Mizuiro as they get together to watch the fireworks that night. After Tatsuki arrives with Sado and Orihime, where she explains how she lost the final match of Nationals due to a broken arm, the group walks through Karakura Town for a few hours. Upon learning that they are still not at their destination, Tatsuki proposes that they simply sit on the riverbank and watch, but a drunken Isshin arrives with his daughters and reveals that he has been saving seats since 7 A.M. for the fireworks. When his family and friends run off, Ichigo notes that he should follow them and does so, leaving Orihime and Tatsuki to discuss Orihime's upcoming trip. That night, as he carries his sleeping sisters home on his back, Ichigo steels his resolve to go to Soul Society.[72]
In the SRDI, Hiyosu, 12th Division 3rd Seat Akon, Kuna, and the other researchers finally receive Rukia's Gigai to inspect. However, upon close examination, Hiyosu and Akon are shocked by the level of skill used to produce it, with Akon claiming that such skill would be grounds for permanent banishment from Soul Society. On August 8th, at 1 A.M., Ichigo and his friends receive a message from Urahara telling them to meet in front of his shop. After being given a protective charm by Isshin, Ichigo meets up with Orihime, Sado, and Uryū, the latter of whom justifies his presence by proclaiming that he is coming along for a rematch with the Shinigami after his training. Greeting the group, Urahara requests that they move inside so he can explain the details.[73]
As they move down to the training area underneath the Urahara Shop, Orihime marvels at its size, prompting Tessai to tearfully thank her. Pushing Ichigo's Soul out of his body and summoning his modified Senkaimon, Urahara explains how this will allow Ichigo and his friends to enter Soul Society by converting their bodies from Kishi to Reishi, but warns them that they will only have four minutes before the Senkaimon closes, stranding them in the Dangai. With Yoruichi acting as their guide, Ichigo and his friends enter the Dangai and begin their journey.[74]
References