Shin'etsu Kisaragi (如月 信越, Kisaragi Shin'etsu) was a Shinigami from the First Division and the father of Shūsuke Amagai.[1]
Appearance
Shin'etsu keeps his dark brown hair in a messy fashion and he has a small beard. As a seated member, he wore the standard Shinigami uniform, albeit it was tattered.[1]
History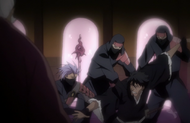 When the Kasumiōji Clan began manufacturing the Bakkōtō, the Central 46 denied Captain Genryūsai Shigekuni Yamamoto's request to investigate the clan's compound. Nonetheless, Shin'etsu offered to sneak in anyway. While there, Gyōkaku Kumoi found him and forced a Bakkōtō on him. Kumoi then ordered for him to kill the person that sent him. He returns to Yamamoto, but his captain unleashes his Shikai to defend himself. Despite his hesitation, he kills Shin'etsu. Shūsuke finds his dying body and hears his father's last words, "Beware the Bakkōtō".[1][2]
Powers & Abilties
Zanpakutō
Shin'etsu's Zanpakutō is a regular katana with a rectangular tsuba and its handle is wrapped in a dark fabric.[2]
Bakkōtō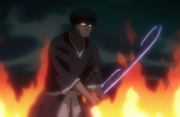 Upon being captured by Kumoi, he was forcibly given an experimental Bakkōtō. It has two curved extensions on both ends of the blade that take the appearance of a hook. Its powers, if any, are unknown.[1]

References
Gotei 13

1st Division
Captain-Commander Shunsui Kyōraku • Lieutenant Nanao Ise • Lieutenant Genshirō Okikiba
2nd Division
Captain Suì-Fēng • Lieutenant Marechiyo Ōmaeda
3rd Division
Captain Rōjūrō "Rose" Ōtoribashi • Lieutenant Izuru Kira • 3rd Seat Rikū Togakushi • 5th Seat Taketsuna Gori • 6th Seat Asuka Katakura
4th Division
Captain Isane Kotetsu • Lieutenant Kiyone Kotetsu • 3rd Seats Yasochika Iemura & Hanatarō Yamada • 8th Seat Harunobu Ogidō
5th Division
Captain Shinji Hirako • Lieutenant Momo Hinamori
6th Division
Captain Byakuya Kuchiki • Lieutenant Renji Abarai • 9th Seat Mihane Shirogane
7th Division
Captain Tetsuzaemon Iba
8th Division
Captain Lisa Yadōmaru • 3rd Seat Tatsufusa Enjōji
9th Division
Captain Kensei Muguruma • Lieutenant Shūhei Hisagi • Lieutenant Mashiro Kuna • 20th Seat Toshimori Umesada
10th Division
Captain Tōshirō Hitsugaya • Lieutenant Rangiku Matsumoto • 7th Seat Kōkichirō Takezoe
11th Division
Captain Kenpachi Zaraki • Lieutenant Ikkaku Madarame • 3rd Seat Yumichika Ayasegawa • 10th Seat Makizō Aramaki
12th Division
Captain Mayuri Kurotsuchi • Lieutenant Akon
13th Division
Captain Rukia Kuchiki • 3rd Seat Sentarō Kotsubaki • 6th Seat Hidetomo Kajōmaru
Former Members
Left Service
Captain Yoruichi Shihōin • Gin Ichimaru • Shūsuke Amagai • Sōsuke Aizen • Sajin Komamura • Ginrei Kuchiki • Love Aikawa • Kaname Tōsen • Isshin Shiba • Kirio Hikifune • Tenjirō Kirinji • Ōetsu Nimaiya • Senjumaru Shutara • Ichibē Hyōsube

Lieutenant Marenoshin Ōmaeda • Chikane Iba • Seinosuke Yamada • Ginjirō Shirogane • Jin'emon Kotsubaki • Yachiru Kusajishi • Hiyori Sarugaki

4th Seat Jirōbō Ikkanzaka

Dishonorably Discharged
Captain Kisuke Urahara • 3rd Seat Kōga Kuchiki • 4th Seat Kagerōza Inaba
Killed In Action
Captain-Commander Genryūsai Shigekuni Yamamoto

Captain Retsu Unohana • Kenpachi Kiganjō • Jūshirō Ukitake

Lieutenant Chōjirō Sasakibe • Sōjun Kuchiki • Nemu Kurotsuchi • Kaien Shiba

3rd Seats Heizō Kasaki & Miyako Shiba • 4th Seat Shinobu Eishima • 6th Seat Izaemon Tōdō