Heizō Kasaki (笠城 平蔵, Kasaki Heizō) was the 3rd Seat of the 9th Division in the Gotei 13 and served under his Captain Kensei Muguruma.
Appearance
Kasaki is a tall and muscular Shinigami. He is bald, but has a mustache. He usually has a serious look on his face and dresses like the other members of the 9th Division, with the standard Shinigami uniform and a white jacket that he wears over his Shinigami uniform with a collar that reaches up to his neck.
Personality
Kasaki is a dedicated and disciplined Shinigami who is able to hold his temper in irritating situations including when his lieutenant whines incessantly whilst on a mission which in turn makes his captain lose his temper and attempt to attack her. Kasaki is shown to try and calm such situations down.[1] He is also very organized as Kensei trusted him with the task of having camp set up during an important mission.[2]
History
Turn Back the Pendulum arc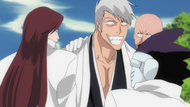 Along with Kensei and other seated officers of the Ninth Division, Kasaki was sent to investigate the disappearance of the Rukongai residents. When Mashiro Kuna's excessive whining began to annoy Kensei, Kasaki held his tongue until Kensei lost his temper and went to attack her; along with the other officers, Kasaki held Kensei back to prevent him from doing so.[1] He and the other 9th Division members were seen saving a young Shūhei Hisagi and his friends from a Hollow.[3] When Mashiro (who was absent during the fight) discovered 10 empty shihakushō nearby the Hollow attack site, Kensei realized that it matched the same number of a vanguard that was sent to investigate earlier.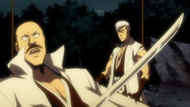 Seeing how the case had become more serious now that Shinigami were missing, Kensei gave his men various orders. Determined to stop the culprits before they reach Seireitei, Kensei tasked Kasaki with having the rest of the unit, which was on stand-by, to bring a tent and set up camp.[4] Later in the night, Kasaki was shown to be with his captain and lieutenant, resting while the other seated officers stood outside on guard duty. Kensei and Kasaki then rushed out of the tent as they heard the screams of the officers outside. The two drew their swords upon seeing the corpses of their fellow Shinigami, but were promptly attacked. Kasaki was killed and Kensei was grievously injured.[5]
Powers & Abilities
Swordsman: As a 3rd Seat officer of the Gotei 13, he possesses skills in the use of swords during combat and knowledge of swordsmanship.
Zanpakutō
References
↑ Bleach manga; Chapter -103, page 2
↑ Bleach manga; Chapter -104, pages 9-17
↑ Bleach manga; Chapter -103, pages 1-5
↑ Bleach manga; Chapter -103, pages 14-19
Gotei 13

1st Division
Captain-Commander Shunsui Kyōraku • Lieutenant Nanao Ise • Lieutenant Genshirō Okikiba
2nd Division
Captain Suì-Fēng • Lieutenant Marechiyo Ōmaeda
3rd Division
Captain Rōjūrō "Rose" Ōtoribashi • Lieutenant Izuru Kira • 3rd Seat Rikū Togakushi • 5th Seat Taketsuna Gori • 6th Seat Asuka Katakura
4th Division
Captain Isane Kotetsu • Lieutenant Kiyone Kotetsu • 3rd Seats Yasochika Iemura & Hanatarō Yamada • 8th Seat Harunobu Ogidō
5th Division
Captain Shinji Hirako • Lieutenant Momo Hinamori
6th Division
Captain Byakuya Kuchiki • Lieutenant Renji Abarai • 9th Seat Mihane Shirogane
7th Division
Captain Tetsuzaemon Iba
8th Division
Captain Lisa Yadōmaru • 3rd Seat Tatsufusa Enjōji
9th Division
Captain Kensei Muguruma • Lieutenant Shūhei Hisagi • Lieutenant Mashiro Kuna • 20th Seat Toshimori Umesada
10th Division
Captain Tōshirō Hitsugaya • Lieutenant Rangiku Matsumoto • 7th Seat Kōkichirō Takezoe
11th Division
Captain Kenpachi Zaraki • Lieutenant Ikkaku Madarame • 3rd Seat Yumichika Ayasegawa • 10th Seat Makizō Aramaki
12th Division
Captain Mayuri Kurotsuchi • Lieutenant Akon • Hachigō Nemuri
13th Division
Captain Rukia Kuchiki • 3rd Seat Sentarō Kotsubaki • 6th Seat Hidetomo Kajōmaru
Former Members
Left Service
Captain Yoruichi Shihōin • Gin Ichimaru • Shūsuke Amagai • Sōsuke Aizen • Sajin Komamura • Ginrei Kuchiki • Love Aikawa • Kaname Tōsen • Isshin Shiba • Kirio Hikifune • Tenjirō Kirinji • Ōetsu Nimaiya • Senjumaru Shutara • Ichibē Hyōsube

Lieutenant Marenoshin Ōmaeda • Chikane Iba • Seinosuke Yamada • Ginjirō Shirogane • Jin'emon Kotsubaki • Yachiru Kusajishi • Hiyori Sarugaki

4th Seat Jirōbō Ikkanzaka

Dishonorably Discharged
Captain Kisuke Urahara • 3rd Seat Kōga Kuchiki • 4th Seat Kagerōza Inaba
Killed In Action
Captain-Commander Genryūsai Shigekuni Yamamoto

Captain Retsu Unohana • Kenpachi Kiganjō • Jūshirō Ukitake

Lieutenant Chōjirō Sasakibe • Sōjun Kuchiki • Nemu Kurotsuchi • Kaien Shiba

3rd Seats Heizō Kasaki & Miyako Shiba • 4th Seat Shinobu Eishima • 6th Seat Izaemon Tōdō