Spider-Man: No Way Home Trailer Dropped - The Loop
Play Sound

This article contains information from anime sources that were not written by Tite Kubo and therefore are not considered canon material by the wiki.
"I've lived too long. People are born, mature, and then grow old. I've seen life from all sides, and yet the lives that should be lived always seem to slip through these hands."

—
Gō Koga
in
Episode 84
Gō Koga (古賀 剛, Koga Gō) is a Bount working alongside Jin Kariya.[1] At some point in the past, he went by the name Claude Gaugain (クラウド・ゴーガン, Kuraudo Gōgan).[2]
Appearance
Koga is a tall, muscular, and stockily-built man with orange-brown skin, pale green eyes with thin eyebrows, and a large nose. He has dark red hair cut short and completely framing his head with sideburns, a beard, and a partial mustache formed by spike-shaped strips of hair extending from either side of his upper lip toward the center without merging; the top-middle section of his hair is instead orange, spiky, and noticeably longer than the red majority is. Koga wears a bulky black pair of headphones with no wire around his neck, a dark green tank-top, blue jeans fastened at the waist by a black belt with a simple buckle, a tan-green pouch on his left thigh that is held around his hips by a thick diagonal strap, and plain black shoes.[1]
During his time with Cain centuries ago, Koga's hair was completely red and kept shoulder-length at the back. He wore a tan vest over an off-white shirt with a green zipped collar that was fastened at his midsection by five black belts layered above each other, as well as gray-brown pants tucked inside black boots with light gray flaps at the tops and light gray straps forming an X in front of each shin.[2]
Personality
Koga is a stoic, serious, and focused man who tends to speak tersely and act efficiently.[3][2][4] Like the other Bount, he has a slight sadistic streak, having been amused by the news of Hō and Ban's deaths,[1] and has no qualms about sacrificing Humans to the Bitto, believing that it is necessary for the ultimate goal of the remaining Bount.[5] Additionally, he holds great pride in being a Bount, believing that it makes him a chosen Human[2] and that it has allowed him to reach the peak of his physical potential, as well as demonstrate his mental strength by withstanding eternity,[6] overall making him superior to normal Humans[7] and an invincible combatant.[8]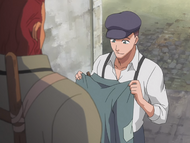 However, this is merely Koga's surface-level temperament; deep down, he is a fairly cynical man who believes it is arrogance and foolishness that leads people to believe they can save others[5] and is fully aware of the limits of his power.[9] While largely confident in his choices, Koga is not above recognizing his own failures or criticizing decisions he made in the past.[10] He also has a considerable philosophical side and occasionally makes detailed observations about the tragic existence of the Bount,[11] the dangerous powers of others,[5] the apparent cruel fate he lives through,[2] and the wrongness of living for so long while others age and die.[6] Much of this stems from his past with Cain: while initially only training him as a favor to Jin Kariya, Koga developed a bond with the young man and eventually began viewing him as a surrogate son instead of an apprentice, leaving him heartbroken when his decision to let Cain summon a Doll of his own led to the latter doing so on his own and dying in the process, an event which Koga blames himself for and which has led him to believe that he is destined to watch promising young men die young;[2] to this end, he will not seriously injure or kill young people who still have lives to lead.[12][9]
His grim nature also belies an analytical and intelligent mind that allows him to deduce the nature of his opponents' powers[5] and infer the details of their strategies[9] as well as be one of only two Bount capable of performing complex, space-altering rituals alongside Kariya;[10][13] due to this knowledgeable side of him, Koga was designated as a teacher within the Bount society and recognized as capable of training young Bount to reach their full potential.[9] Additionally, Koga is a cautious man who nevertheless tends to place too much trust in certain people: the two most prominent examples of this are Cain, whom Koga did not realize would disobey his instructions and attempt to summon a Doll on his own after deciding he was ready to do so,[2] and Kariya, who Koga did his best to keep in check[4] but did not comprehend how much vengeance had consumed him until it was too late to stop him.[12]
Moreover, despite his gruff exterior, Koga is far from unkind - he does his best to treat non-enemies of the Bount with dignity and warn them of the danger they face, particularly from Kariya,[3][4] and has no quarrel with Shinigami who protect innocent Souls.[14] Despite being opposed by Ichigo Kurosaki due to the Bount targeting Keigo Asano, Koga explained himself in an attempt to get Ichigo to stand down without further injury[2] and eventually left the fight voluntarily, believing that Ichigo deserved to live out the rest of his life.[6] He also sympathizes considerably with the denizens of Kusajishi in the Rukongai, whose uncertain and perilous lives he compares to those of the Bount,[8] and when tasked with clearing the White Road Gate for the siege engine to open it, Koga first asked Jidanbō Ikkanzaka to stand aside and only attacked when the latter refused.[15] Upon discovering that Kariya not only intended to annihilate every Shinigami in the Seireitei, but did not care at all about honoring the sacrifices of his fellow Bount that allowed him to attain the power of the Jōkaishō, Koga was horrified and adamantly refused to go along with his plan, believing that it was tantamount to spitting on the heavens.[12] Ultimately, Koga wants nothing more than to see peace between the Shinigami and the Bount,[9] whom he wants a proper future for and to honor the sacrifices of,[12] though he eventually accepted that they were fated to die out upon learning that he was the last surviving member of his race.[16]
Much of Koga's view on the world revolves around power, both his own and that of others: he is highly proud of his strength acquired over decades of training and self-discipline, believing it to be the pinnacle of Human potential,[6] and enjoys any further increase to it, such as through the Bitto[17] and the Reishi-rich environment of Soul Society,[7] which he touts as making him invincible.[8] Conversely, he is vocally critical of those whose power is unstable or used for the wrong purposes; after encountering Ichigo's destructive and wild inner Hollow, Koga warned Ichigo that he lacked the strong mind and heart required to control such power and that it would destroy him in the near future.[5] Upon being tasked with shaping Cain into a proper Bount, Koga repeatedly restrained and threw Cain around to demonstrate the difference in their strength and to prove that Cain would not last long on his own in such condition.[2] After the Bount tested their newly-enhanced abilities, Koga warned Mabashi that he would regret it if he became addicted to the Bitto serum that empowered them,[18] later instructing him to watch Kariya fight Ichigo in order to understand what a Bount's true potential looked like.[10] This influenced his decision to turn on Kariya after learning of the latter's ultimate plan, as he believed that the power granted by absorbing the Jōkaishō could be used for far more constructive a purpose than obliterating the Seireitei.[12] However, he does hold regard for opponents whose power and skill impresses him, such as Ichigo[5] and Tōshirō Hitsugaya.[9]
Koga has a close friendship with Maki Ichinose, which began when he and Kariya rescued the latter from a Hollow attack.[14] Each of them is the only person whom the other will relax and act friendly around, with a casual rapport and an understanding of each other's temperaments between the two.[1] Koga and Ichinose also have a mutual trust, with Koga readily allowing Ichinose to take over construction of a Senkaimon when Ichigo interrupted the ritual[10] and assuring him that Kariya would be fine while the latter was fighting Ichigo.[13] The two of them readily share the responsibility of looking after Kariya and keeping him in check, and Koga was slightly concerned when the normally alert and responsive Ichinose was visibly distracted and aloof in Soul Society.[4] The ultimate display of their bond came when Koga had Ichinose cut his arm in order to demonstrate his newfound healing ability, fully trusting the latter to go through with it and not cause serious injury.[8]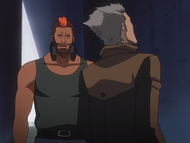 Koga is also Kariya's closest associate and ally, having assisted him for several decades ever since Cain died; prior to this, the two believed that Bount should live alone and independently, but his tragic passing led them to decide that the sadness of their existence was too painful for Bount to bear in isolation.[2] Though he acts as Kariya's enforcer and actively works to bring his plan to fruition[3][11][5] as well as protect him,[19] even apologizing when he fails,[18] Koga is highly wary of Kariya's violent tendencies and often intervenes to protect others from them.[3][4] Additionally, he begins questioning the true nature of Kariya's intentions for the Bount due to his self-centered actions.[19][20] From the day they met, Koga considered Kariya a blade that could not be controlled and only followed him due to the rest of their tribe being attracted by his charisma and desire for vengeance after suffering so many hardships, but only turned on Kariya upon learning that the latter intended to let the Bount die out in his quest for revenge and refused to use his newfound great power to instead help the Bount, something which Koga considers unforgivable.[12] In the end, Koga expressed heartfelt gratitude to Ichigo for finally killing Kariya and saving Soul Society.[16]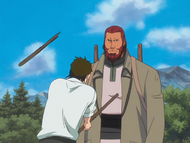 In combat, Koga is ruthless and efficient, being entirely willing to deliver killing blows and take advantage of opponents' mistakes at a moment's notice,[6] as well as take hostages[12] and employ surprise attacks.[9] He has a tendency to grin audaciously when tracking down prey,[21] displaying his power,[3] or facing a particularly strong opponent.[6] However, Koga is not completely heartless; during his fight with Ichigo, whenever he had a chance to kill the latter, Koga vocally decided to do so quickly and not draw out his suffering,[5][6] and when defending himself from members of the Tenth Division in the Seireitei, Koga opted to only incapacitate them with moderate injuries instead of employing lethal force, as he does not want to kill young people with futures ahead of them.[12][9] Additionally, he will not bother fighting Humans who do not pose a threat to him no matter how much they provoke him, such as the three thugs who tried to rob him and Cain, and will only have Dalk scare them off instead of actually harming them.[2]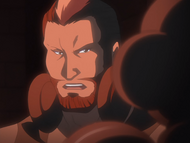 Koga has a complex relationship with his Doll, Dalk, who will often tease him about being summoned in the first place[3][2] and whom Koga frequently disagrees with regarding how they do battle.[5][6][9] However, Koga cares deeply about her and never reprimands Dalk for failing, instead assuring her that she did her best and opting to return her to her sealed state.[6] Furthermore, Koga treats Dalk as an equal rather than a servant; while evading the Shinigami searching for him in the Seireitei, Koga sought her input on what he should do next, and when confronted by Hitsugaya, Koga was visibly concerned for the wellbeing of Dalk due to her weakness to cold. When Dalk was eventually shattered beyond repair, Koga gently praised her as having done well so she could pass away with a smile.[9]
History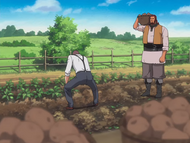 Centuries ago, Koga lived alone on a small farm somewhere in Europe, where he was one day approached by Jin Kariya with a young Bount, Cain, whom Kariya requested Koga train to become a proper Bount. Though initially reluctant, Koga acquiesced and was given a book detailing the Zauberspruch für die Ladung for Cain to use later. Koga had the belligerent and unruly Cain assist with his farmwork, with the two forming a bond as they toiled together, and after witnessing Koga's Doll, Dalk, in action when he summoned her to fend off a mob that had gathered to kill them, Cain came to desire a Doll of his own and trained even harder alongside Koga.[2]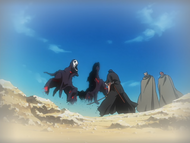 Eventually, Koga decided that Cain was ready to summon a Doll, but insisted that he perform and oversee the ritual as a precaution. However, an overeager Cain disobeyed him and performed the ritual while Koga was asleep, resulting in him rushing out and finding Cain just as the latter's Doll, Waineton, turned on the inexperienced Bount and killed him. Heartbroken, Cain and Kariya built a small monument to Cain and decided to live together from then on in order to cope with the crushing loneliness of their existence.[2] At some point afterward, Koga and Kariya found Maki Ichinose fighting off a Hollow in the desert and saved his life, resulting in Ichinose joining them.[14]
Plot
Bount arc (anime only)
Note: Events occurring in this arc are only in the anime and do not constitute canon material.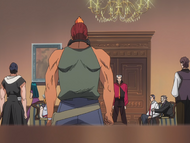 When Jin Kariya begins putting his plan to eradicate the Seireitei into motion, he calls Koga and all the other remaining Bount to the Bount Mansion, with Koga being the first to arrive and meeting with Maki Ichinose. Soon afterward, Koga and the Bount learn that Hō and Ban have just been killed and are amused by it.[1] Koga and the others proceed to listen as Kariya promises that they will soon be able to emerge from the shadows of history which they have lived in for so long.[21] Two days later, Koga tracks down Yoshino Sōma and Uryū Ishida at Yoshino's apartment complex, where he overpowers them with his Doll, Dalk, and takes them back to the mansion.[3]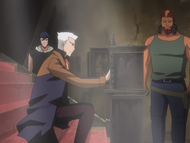 After Ichigo Kurosaki breaks into the mansion in search of Uryū, Koga watches as Ryō Utagawa battles him and rejects the latter's attempt to overthrow Kariya.[22] Escaping from the mansion as it burns to the ground following an assault from Jinta Hanakari and Ururu Tsumugiya,[14] Koga stands by that night as Kariya searches through the debris of the mansion for tools to repair a grandfather clock, with Ichinose preventing him from approaching Kariya.[23] Koga stays with Kariya into the morning and ruminates on the tormented existence of the Bount with him and Ichinose. Later that day, Koga and Ichinose prevent Ichigo and 6th Division Lieutenant Renji Abarai from interfering in Kariya's ritual to create the Bitto.[11]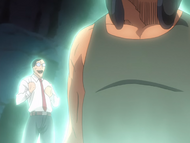 Upon regrouping with the Bount in the cave system formerly inhabited by their clan, Koga learns from Kariya that drinking the concentrated living Souls collected by the Bitto will increase their current abilities to over ten times their current level. Intrigued by this, Koga drinks the serum alongside the other Bount and is enraptured by the increase in power that it grants him, leading him to admit that it is better than he imagined it would be.[17] That night, Koga and the other Bount are sent out by Kariya to test their new level of power, leading Koga to confront Ichigo at a construction site after the latter finds Keigo Asano being attacked by the Bitto.[5]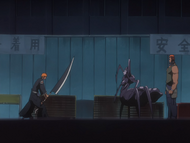 Through his Doll, Dalk, Koga overwhelms Ichigo, who struggles to protect a weakened Keigo, and lectures him on doing so when Keigo is almost dead anyway. After explaining the purpose of the Bitto to Ichigo, Koga has Dalk attempt to finish him off, but is shocked when Ichigo's inner Hollow takes over his body and turns the tables on Dalk, whom he cuts in half. However, Koga simply resummons Dalk following Ichigo regaining control of his body and prepares to kill him,[5] though he hesitates upon being reminded of Cain by an incapacitated Ichigo. Suddenly, Koga is confronted by 3rd Division Lieutenant Izuru Kira.[2]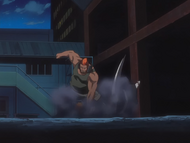 While Izuru reveals that he has come to help Ichigo and engages Dalk, Koga begins fighting Ichigo personally and displays the high level of physical strength he has gained over centuries of training his body. Despite having the upper hand against Ichigo, Koga once again thinks of Cain and ruminates on his long life causing him to see many promising young people age and die while he persists. When Izuru incapacitates Dalk with his Shikai, Wabisuke, Koga seals her and opts to spare Ichigo as he leaves the fight.[6] The next day, Koga returns to the cave system, where he apologizes to Kariya for failing and reprimands Mabashi for desiring more of the Bitto serum.[18]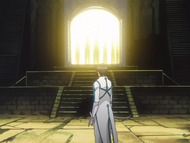 With Ugaki assaulting the Shinigami strike force that enters the cave system, Koga and the others begin making preparations to enter Soul Society prior to Ichigo breaking into the chamber. As Kariya passes off creating the Senkaimon to him in favor of fighting Ichigo, Koga recites an incantation to create an intricate Senkaimon base and lets Ichinose take over the process from there.[10] Eventually, Uryū joins them with his Quincy powers restored, prompting Koga to alter the Senkaimon with another spell that allows Uryū to give it Reishi-converting properties with a Heilig Pfeil, leading the Bount to pass through and enter Soul Society.[13]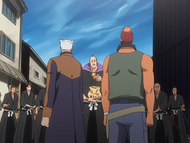 Upon landing in the Rukongai, Koga and Kariya find themselves confronted by the Second Division and its lieutenant, Marechiyo Ōmaeda, as well as 7th Division Lieutenant Tetsuzaemon Iba, where Koga decides to test his new level of power and displays the Bount ability to absorb Reishi from the atmosphere to empower himself before having Dalk rapidly defeat all of the Shinigami present.[7] The next day, Koga, Kariya, and Ichinose visit a gambling den in Kusajishi in search of able-bodied men. After joining in a fight initiated by Kariya and incapacitating all the thugs in the hall alongside Ichinose, Koga admonishes Kariya for drawing attention when the Gotei 13 is searching for them.[4]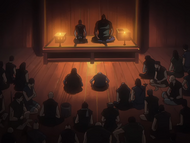 With the gambling hall's bookie, Tōba, agreeing to round up men for their cause and rooming them in a cottage, Koga and Ichinose learn from Kariya that he is going out to confront 6th Division Captain Byakuya Kuchiki.[4] That evening, Koga and Ichinose meet with Tōba and the thugs he has assembled so far, where Koga explains Kariya's intention to upend the current status quo of Soul Society and allow the residents of the Rukongai to live proper lives by rebuilding the governmental system.[8] Having won over the residents of Kusajishi, Koga finds Kariya battling Ichigo and Byakuya, prompting him to have Dalk distract them while he and Kariya return to the cottage.[19]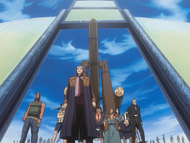 Over the course of the next day, Koga and the other Bount oversee the construction of massive siege engines in Kusajishi. Upon receiving word from Ichinose that a strike team of Shinigami is approaching their location, Kariya has the Bount move out, with Koga confronting and defeating Jidanbō Ikkanzaka in order to clear the White Road Gate.[15] Once the villagers open the gate with their siege engine, Koga walks inside the Seireitei with Sawatari and Kariya before the latter betrays the villagers and blows them away with his Doll, Messer. Following this, Kariya tasks Koga and Sawatari with killing the captains while he searches for the Jōkaishō, perturbing Koga.[20]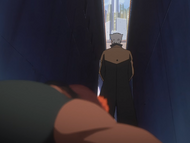 Later that day, Koga catches up to Kariya after he has absorbed the power of the Jōkaishō and learns that it will allow Kariya to destroy the entire Seireitei in an instant. Shocked by Kariya possessing this level of power, Koga insists that he instead use it to make the Shinigami kneel before them, but Kariya declines and reveals that he does not care about their comrades having died for this, angering Koga, who recounts how he has always considered Kariya dangerous and begs him to reconsider this course of action. In response, Kariya thrusts his hand through Koga's abdomen and leaves him for dead, though Koga manages to heal the wound with Reishi by nightfall and sets out to track down Kariya.[12]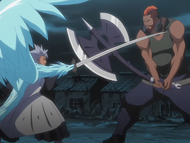 Koga ends up attracting the attention of the Tenth Division and its captain, Tōshirō Hitsugaya, as he moves through the Seireitei and incapacitates several of its unseated members. When confronted by Hitsugaya personally, Koga summons Dalk to fight him, but is caught off-guard when Hitsugaya's Shikai, Hyōrinmaru, exploits her weakness to cold and ends up shattering her. After comforting Dalk in her last moments, Koga reforms her remains into a large battle axe to fight Hitsugaya directly and empowers himself with Reishi to match Hitsugaya's power, only for Hitsugaya to easily overpower him with his Bankai, Daiguren Hyōrinmaru, and leave Koga to be buried in ice.[9]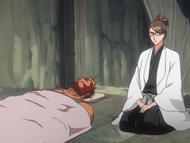 Shortly afterward, Yoruichi Shihōin finds an unconscious Koga in the ice and brings him to Ran'Tao's dwelling, where the latter heals his injuries and lets him rest. The day after Kariya is killed by Ichigo, Koga regains consciousness and is startled by Ran'Tao's resemblance to Yoshino, as well as confused by Yoruichi saving him to begin with, though he does not receive an answer as to why she did so. When he is told about Kariya's death, Koga is left to somberly reflect on the Bount being destined to die out. Following Ran'Tao's request that he tell her the story of the last living Bount, Koga asks Yoruichi to pass on his thanks to Ichigo for killing Kariya, which she agrees to do.[16]
Powers & Abilities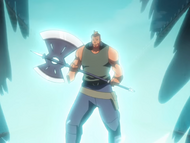 Great Spiritual Power: As a Bount, Koga possesses a considerable amount of Reiryoku that was greatly amplified by consuming the serum produced by the Bitto, enough so that he could fight a Shikai-wielding Ichigo Kurosaki on even terms[6] and be entrusted with dispatching Gotei 13 captains by Jin Kariya.[20] By absorbing Reishi from the surrounding environment, Koga even managed to clash directly with 10th Division Captain Tōshirō Hitsugaya, who was visibly impressed by the strength of his Reiatsu as it damaged the surrounding area. Like all Bount who have consumed Bitto serum, Koga has light teal Reiatsu.[9]
Reishi Absorption: Like all Bount, Koga can absorb Reishi in his vicinity; though nearly useless in the Human World due to the low concentration of Reishi in its atmosphere, this ability is immensely strengthened in Soul Society where everything is composed of Reishi.[7] By absorbing Reishi, Koga can heal all physical damage to his body and clothing, which breaks down the structures that the Reishi is absorbed from in the process,[8] but his body can only sustain so much absorbed Reishi at once before it becomes unstable, which causes Koga to begin trembling and sweating, hindering his combat performance.[9]
Superhuman Strength: After centuries of training and conditioning his body, Koga considers himself to be at the peak of human strength potential; he has demonstrated this by easily picking up and swinging around a steel girder as a weapon with incredible force and with only one hand, as well as holding Ichigo up off the ground without any visible effort.[6] He can casually throw a grown man several feet away with one hand and send a man flying several meters back with a blow from both fists clasped together,[4] as well as slam someone into a wall with enough force to crater it using both hands.[12] When attacked by 7th Division Lieutenant Tetsuzaemon Iba, Koga simply grabbed the prong of his Shikai and held him in the air for several seconds with one arm.[7] After opting to fight Hitsugaya directly, Koga reformed the totality of Dalk into a massive battle axe that he wielded with ease.[9]
Superhuman Durability: After centuries of training and conditioning his body, Koga has attained an impressively durable physique. When confronted by three thugs while training Cain, Koga took a direct punch to the chest from one of them unfazed, and when another swung a sturdy stick at him, it broke in half on impact without even scratching Koga.[2] Much later in life and after consuming Bitto serum, Koga was attacked with a metal mace that completely shattered upon hitting him without harming Koga himself.[4] When countering Iba's direct attack on him, Koga grabbed the sharp prong of the former's Shikai without sustaining any injury to his hand.[7]
Keen Intellect: Koga possesses considerable intelligence related to the nature of power and battle strategy; upon witnessing Ichigo's inner Hollow, Koga correctly observed that Ichigo was at risk of this power consuming him due to lacking the necessary strength of mind and heart to control it.[5] Later, while being pursued by multiple squads of Shinigami led by 10th Division Lieutenant Rangiku Matsumoto, Koga deduced that they were communicating through the Jigokuchō accompanying each squad and had Dalk destroy them to cut off communication. His intellect was recognized by the Bount community, who designated him a teacher responsible for training younger Bount to reach their full potential.[9]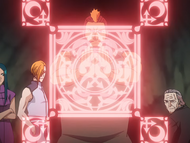 Bount Spell Expert: Alongside Kariya, Koga is one of only two Bount knowledgeable enough to perform the potent spells of their tribe. With this knowledge and the space-altering power granted to him by consuming Bitto serum, Koga not only created an intricate Senkaimon base from thin air,[10] but altered it with a second spell that, when combined with Uryū Ishida's Heilig Pfeil, gave the Senkaimon Reishi-converting properties, allowing the Bount to enter Soul Society.[13]
Expert Hand-to-Hand Combatant: Koga is a proficient close-quarters combatant with centuries of experience, fighting with precise and powerful blows, grabs, and slams.[6][4][12]
Axemanship: Though he only fights with the core battle axe form of Dalk as a last resort, Koga is proficient enough in wielding it to clash briefly with Zanjutsu master Hitsugaya.[9]
Doll
Main article: Dalk
Dalk (ダルク, Daruku) is Koga's Doll. A spider-like being made entirely of metal who is vocally sadistic and flirtatious with both Koga and his enemies, Dalk can freely reform her limbs into different weapons[3] and attack with spheres embedded in her lower body, which are attached to her by tethers.[5] She is also completely immune to heat[3] but weak to cold[9] and vulnerable to increases in weight, which hinders her movement.[6] Her crest takes the form of a marble-sized metal sphere; when Dalk is summoned, the sphere expands in size and separates into hundreds of smaller spheres that merge and assemble to form her body.[3]
Quotes
(To Cain) "You still must learn to be proud that you were born a Bount, Cain."[2]
(To Cain) "Don't think of yourself as some stray dog. You are a chosen Human. You are a Bount!"[2]
(To Jin Kariya) "Please forgive me. I lost the life of an important comrade. I am to blame."[2]
(To Uryū Ishida) "Kariya's a kind person, but very dangerous, too. You should consider it a warning. You'll soon learn."[3]
(To Kariya) "By restarting the hands of the clock, you restart the motion of time itself. Right? Human lives are all governed by time. That's why they reject us Bount. Because we simply exist...and that's all."[11]
(To Ichigo Kurosaki) "There's no one among you who can be saved. To believe otherwise is a foolish illusion."[5]
(To Ichigo) "To use strong power, one must have a strong mind and a stronger heart. You don't have either one of those. That's why you cannot control your power. The power within you has no harmony, which makes it imperfect. Because of that, you will only end up destroying yourself in the near future."[5]
(To Dalk) "It's over. End it, Dalk. Don't make him suffer too much."[5]
"Somehow, I must've been fated to have to bear witness to the deaths of young ones. It saddens me to have to watch young men with their futures still ahead of them die before my very eyes."[2]
(To Ichigo) "The fire in your eyes spells danger. Such power without principle is dangerous."[2]
(To Ichigo) "Are you surprised? You never thought an unarmed Human could be this powerful. We Bount have eternal life. Incredible mental strength is required to withstand the passing of eternity! And that strength...that is what allowed me to push my body to the absolute limit! What you see before you - this is a Human's potential power!"[6]
(To Ichigo) "Now I just have to wait until you stop breathing. Or, I could snap your neck with one little twist. At least I'll be merciful so that you don't have to suffer."[6]
(To Ichigo) "It's just that...I've lived too long. People are born, mature, and then grow old. I've seen life from all sides, and yet the lives that should be lived always seem to slip through these hands."[6]
(To Ichigo) "So young...you haven't lived at all. It's a pity. Don't feel like you have to rush your life. There's no shame in cherishing the journey."[6]
(To Dalk) "That's enough, Dalk. You've done well."[6]
(To Mabashi) "The next time you feel like getting drunk off of living Souls, you should remember what you have just witnessed here. That is the essence of a Bount who has gained power."[10]
(To the residents of Kusajishi) "Ideally, all Souls should be sent to Soul Society equally, but in reality, this entire world is ruled by only a small part of it. The power is all held in the Seireitei. There shouldn't be poverty in the Rukongai. This place, Kusajishi, is a place where death can come for you at any time, where blood is washed away with more blood. It was similar for us in the Human World...no, in a way, we lived in even worse conditions. So, you see, we can understand your feelings. Don't you ever want to see the light of day again? Don't you want to live your lives the way you choose, without looks of scorn from the rest of the world? Master Kariya's going to turn Soul Society upside-down! It's true! Come along with us, to a brand new world!"[8]
(To the residents of Kusajishi) "You see that we are invincible. As long as you are with us, you will have nothing to fear. We are going to destroy the Seireitei. Together with you, we're going to reshape Soul Society into the way it should've always been!"[8]
(To Kariya) "What you plan to do is atrocious! Just how many of us must die to fulfill your cause?! Enough is enough! If you really have this power, then you could make every Shinigami in the Seireitei kneel down before you! We came here for revenge, but you intend to obliterate everyone! What's the point in that?!"[12]
(To Kariya) "I've been worried about this since the day we met. You're a loose cannon without discipline or control. The Bount endured centuries of hardships and were mesmerized by your strength and passion - that's the reason I followed you up to this point. But if you're planning to use the Jōkaishō, that changes things! If it really is the source of our power as you say, then it shouldn't be used as a weapon! It should not be an instrument of death! Kariya, don't do this! It's like spitting on the gates of heaven!"[12]
(To Hitsugaya) "Each member of our tribe has had his own role to play. Mine was to train the young to grow into full-fledged Bount as soon as possible. There were those who grew up well and those who, for whatever reason, didn't. Something from long ago just came to me."[9]
(To Hitsugaya) "As a captain of the Gotei 13, you are everything I expected. In order to get past you, I will have to use my full strength. I have something I must do, and nothing will stop me from pursuing it. If you persist on standing in my way, I will have no choice but to eliminate you."[9]
(When asked where he intended to go) "To a future where there would be no wars..."[9]
(To Yoruichi Shihōin) "Before you go...would you do me a favor, and tell Ichigo 'Thanks for stopping Kariya'?"[16]
References