Breakthrough! The Shinigami's Encompassing Net is the twenty-ninth episode of the Bleach anime.
Uryū Ishida defeats 7th Division 4th Seat Jirōbō Ikkanzaka while Ichigo Kurosaki and Ganju Shiba encounter 4th Division 7th Seat Hanatarō Yamada, who personally knows Rukia Kuchiki.
Summary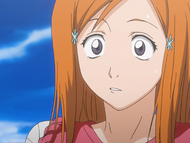 With Uryū Ishida having shot his left hand with a Heilig Pfeil in the process of destroying his Shikai, Tsunzakigarasu, 7th Division 4th Seat Jirōbō Ikkanzaka clutches it in agony while a stunned Orihime Inoue observes that Uryū is completely different compared to when she last saw him fighting with and alongside Ichigo Kurosaki. When Uryū inquires if he regrets encountering him as a fellow master of projectile weapons, Jirōbō angrily curses him for suggesting such a thing.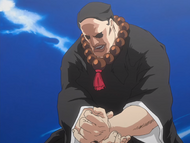 Despite this, Jirōbō's subsequent attempt to resume his attack is interrupted when Uryū casually fires two more Heilig Pfeil into the rooftop right in front of his left foot, each missing it by less than in inch, and asserts that he missed on purpose before promising not to miss next time. However, Uryū is caught off-guard when Jirōbō responds by praising the speed, power, and accuracy of his technique while admitting that it surpasses his own.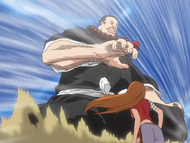 Claiming to be utterly defeated by having met such a skillful practitioner, Jirōbō offers to let Uryū dispose of him in any manner he wishes, only for Uryū to lower his Heilig Bogen, Kojaku, after a few seconds of consideration. Upon being asked by Jirōbō if his refusal to shoot him means that he is letting Jirōbō go, Uryū states that he has no mercy for Shinigami as a Quincy and clarifies that he simply does not like bullying the weak. As he lets Kojaku disperse back into ambient Reishi, Uryū instructs Jirōbō to get out of here before he changes his mind, prompting Jirōbō to observe that he is a kind-hearted person before proclaiming that this will be his undoing as he turns to attack Orihime.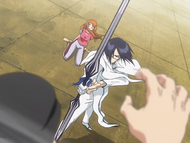 Suddenly, Uryū appears between Jirōbō and Orihime with Kojaku fully reformed, to the shock of both of them, and theorizes that Jirōbō thought he could at least get Orihime if he could not beat Uryū himself as he questions if Jirōbō intended to take Orihime hostage. When Jirōbō nervously inquires how he knew this, Uryū forms and draws back a Heilig Pfeil while explaining that he does not mind exposing cowards even if he does not like bullying the weak before pointing out how Jirōbō was targeting Orihime from the moment he arrived. As he aims the Heilig Pfeil at Jirōbō, Uryū notes that most people would not attack a woman when she is not looking.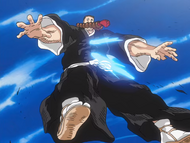 Uryū asserts that any warrior with honor would never do such a thing because this is a coward's way of fighting, and as he bids Jirōbō farewell, Uryū claims that he does not deserve time to regret before shooting a screaming Jirōbō in the chest with two Heilig Pfeil at once, sending him flying back across the rooftop. With Uryū letting Kojaku disperse once more and looking at the steam emanating from his Sanrei Glove, Orihime thanks him and preemptively finishes his sentence when an embarrassed Uryū begins to assure her that she does not need to thank him because he did not do much, leading her to smile as he stares in surprise.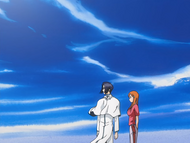 Upon being asked by Orihime if Jirōbō is dead, Uryū denies this and explains how he shot Jirōbō's Saketsu and Hakusui, the source of his Reiryoku, in order to destroy his spiritual powers and prevent him from ever becoming a Shinigami again once he wakes up, which Uryū considers a sufficient result for this battle. When Uryū suggests that they leave, Orihime agrees and walks away with him as she mentally recalls Yoruichi Shihōin's explanation of how Quincy fight by gathering Reishi from the atmosphere around them. Theorizing that Uryū's Sanrei Glove increases his ability to gather Reishi, Orihime concludes that Uryū trained by himself in order to protect them.
After marveling at Uryū mastering the Sanrei Glove to such a degree after training with it for just ten days despite how powerful and dangerous it is, Orihime questions what she has accomplished with her training by comparison before losing her balance as she walks, prompting Uryū to leap back and catch her by the hand. Though she is disheartened by Uryū's dismissive response to her thanks for this, Orihime hears Tatsuki Arisawa's voice telling her to persevere while a light shines from the heavens, and as Orihime remembers that she promised to come back to Tatsuki, a concerned Uryū frantically asks her if she got hurt earlier, leading her to equally frantically apologize.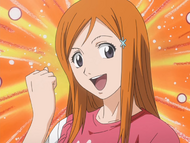 Orihime claims that she simply got teary-eyed while looking at the sun and compares it to needing to sneeze when looking at a bright light, needing to use the restroom while waiting at the bookstore, and having one's gums bleed when biting into an apple, leaving Uryū bewildered as she walks past him and says that they should get going. With Orihime confidently stating that she is going to do her best, Uryū wonders if she is sure that she is alright and finds himself uncertain of how to explain when she requests to know why. Elsewhere in the Seireitei, a screaming Ganju Shiba runs from a horde of Shinigami and questions why he is always the one being chased.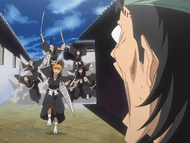 Upon having his appearance repeatedly insulted by the Shinigami behind him, Ganju demands to know why they are saying this and admits that 11th Division 5th Seat Yumichika Ayasegawa was somewhat attractive before asserting that the Shinigami chasing him are just as ugly as he is, only to begin crying when he further angers them with this and realizes that he cannot win an argument with so many enemies chasing him. When he sees Ichigo run into the intersection ahead, Ganju expresses relief at finally receiving reinforcements, but is left shocked when even more Shinigami pour out of the alley behind Ichigo and continue following him.
Despite Ganju's confusion over him also being chased and pleas for him to stop waving and running this way because he is riling up his Shinigami pursuers, Ichigo continues to run toward Ganju while calling out to him, resulting in the two of them simultaneously attacking the Shinigami around them upon meeting up. As he lands after kicking a Shinigami in the face, Ichigo draws his Shikai, Zangetsu, and instructs Ganju to duck before attacking several more Shinigami in rapid succession. Nearby, 4th Division 3rd Seat Yasochika Iemura leads 8th Seat Harunobu Ogidō and several other Shinigami from his division through an alley toward the fighting Shinigami.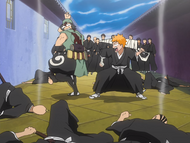 Informing the Shinigami that the first, sixth, and fourteenth relief teams are approaching their position, Iemura orders the Shinigami behind him to run faster because this is not a drill, which they comply with. Meanwhile, Ganju tearfully berates Ichigo for swinging Zangetsu with no warning and demands to know why he did this as they stand over several incapacitated Shinigami. Though Ichigo points out that he warned Ganju in advance, Ganju asserts that he did so without giving Ganju enough time to properly respond, and when Ichigo claims that he should have reacted right away, Ganju angrily questions how he could have done this.
Upon noticing the remaining Shinigami leering at them on either side, Ganju wonders what they should do now because these Shinigami do not seem like the type to back off just because he and Ichigo displayed their strength even if they managed to take out some of them with a surprise attack earlier. Nearby, 4th Division 7th Seat Hanatarō Yamada walks along and notes that he is very late before debating whether he should go back, as it will be hard to tell Iemura where he went but the latter will be even angrier if he does not show up. Suddenly, Hanatarō sees the crowd of Shinigami standing in front of him and decides to ask them for help while approaching them.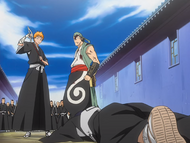 However, Hanatarō trips on a raised flagstone and crashes into the Shinigami, who begin berating him and demanding to know what he is doing here while Hanatarō apologizes. Watching this, a confused Ichigo wonders what is causing this commotion before Hanatarō is thrown headlong into the center of the crowd with him and Ganju. As Hanatarō expresses discomfort over what he just went through, Ganju smiles and tells Ichigo that he has come up with an easy plan for them to get out of there, and as Ichigo affirms that he has had the same idea, Hanatarō nervously picks up on their mention of a plan and questions if they are the alleged Ryoka that he has been warned about.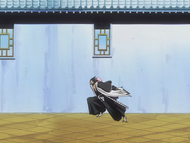 Suddenly, Ichigo and Ganju yank Hanatarō to his feet and hold Zangetsu to his neck while threatening to kill him if the other Shinigami do not let them through as Hanatarō screams in fright. Elsewhere, an irritated 11th Division Captain Kenpachi Zaraki runs down an alley with his lieutenant, Yachiru Kusajishi, clinging to his back and questions if this is really the right way to go, only to be angered when Yachiru admits that she is uncertain. As Yachiru decides on a whim that they should change direction, Kenpachi berates her for this, but sullenly complies with her proposed change when she threatens to let him decide which way to run by himself.
Kenpachi insists that Yachiru make sure this is the right direction as he moves further and further away from Ichigo and Ganju's actual location. Meanwhile, though he initially begs for his life, Hanatarō quiets down upon realizing that the other Shinigami are standing in silence instead of reacting to his being taken hostage. When a stunned Ganju wonders what is going on, Ichigo theorizes that the Shinigami did not hear them the first time and suggests that they try again, leading to Ichigo and Ganju once again threatening to kill Hanatarō if the Shinigami do not let them through, with Hanatarō half-heartedly screaming as well at Ichigo's insistence.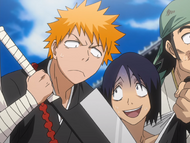 Upon being asked by two of the Shinigami what they are doing, a bewildered Ichigo points out that they are taking a hostage, only for another Shinigami to inquire if it looks like Hanatarō is their friend. While Hanatarō clarifies to Ichigo that he is from the Fourth Division and they are from the Eleventh Division, which Ichigo is confused by the difference between, one of the Shinigami observes that the Ryoka really are outsiders and decides to explain the situation to them so Ichigo does not compare the two divisions. The Shinigami details how, of the Gotei 13, the Eleventh Division is the strongest in combat because they are led by the strongest captain.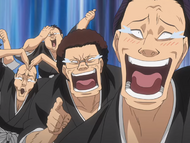 Hearing this, Ganju notes that the Shinigami of the Eleventh Division all have weird hairstyles while Hanatarō's is normal, and as Hanatarō meekly thanks him for this, Ichigo questions where he is from again, leading Hanatarō to remind him that he is from the Fourth Division, which the Shinigami describes as being the lower echelon of the Gotei 13 that specializes in relief and a bunch of wimps who cannot even wield a sword properly. After the Shinigami of the Eleventh Division proclaim that the Fourth Division is comprised of weaklings with no reason to exist, they conclude that Ichigo and Ganju would do them a favor by killing Hanatarō because they hate the Fourth Division.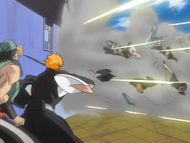 Unnerved by this as Hanatarō screams in fright, Ganju claims it is cruel for the Shinigami to not care what happens to Hanatarō just because they do not like him, which Ichigo sarcastically states is a rational argument. With the Shinigami charging toward them from the front, Ichigo expresses annoyance at having to fight their way out once again, only for the Shinigami to be suddenly blasted away by a large explosion of force from the wall next to them. Though unsure of what caused this, Ichigo seizes the opportunity as having reduced their enemies by half and proceeds to attack the remaining Shinigami behind them as Ganju follows with Hanatarō slung over his shoulder.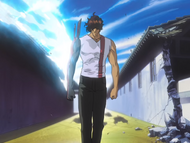 While Ichigo and Ganju fight their way through the remaining Shinigami, Yasutora Sado steps through the hole in the wall and sees the incapacitated Shinigami, prompting him to note that he thought he sensed Ichigo's Reiatsu earlier before concluding that he must have missed Ichigo. Upon being confronted by several more Shinigami who demand to know if he is responsible for the earlier explosion, Sado confirms that he is a friend of the guys who were here prior, and when the Shinigami promise to crush him in five minutes for disrespecting the Eleventh Division, Sado asserts that this will be done in two minutes as energy flares from his Fullbring, Brazo Derecha de Gigante.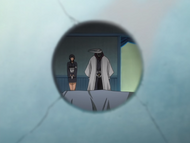 At the Sōgō Kyūgo Tsumesho in the Fourth Division barracks, 12th Division Captain Mayuri Kurotsuchi blasts a small hole into the wall with Kidō while standing with his lieutenant, Nemu Kurotsuchi, in front of a bedridden 11th Division 3rd Seat Ikkaku Madarame. While Mayuri inquires if Ikkaku is really not going to say anything, one of the nurses in the building attempts to plead with him to stop his interrogation because it is forbidden on these grounds, only to be scared into silence when Mayuri blasts another hole into the door frame next to her head as he demands that she shut up. When Nemu begins to speak up, Mayuri threatens to tear her to pieces again if she does not shut up as well.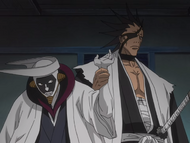 With Nemu meekly apologizing, Ikkaku clarifies that he simply does not know anything about the Ryoka's objective or destination, and when an irritated Mayuri inquires if he is saying that he fought a Ryoka and lost without gaining any information, Ikkaku confirms this and claims that he also did not see the enemy's face or hear his voice, leaving him with nothing to say. Angered by this, Mayuri declares that Ikkaku shall receive a punishment equal to his failure and raises his left hand into the air, only for Kenpachi to grab it by the wrist as he appears behind Mayuri and questions when the latter received the authority to punish Shinigami from other divisions.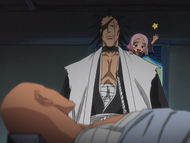 After freeing himself from Kenpachi's grasp, Mayuri observes that there is no need for him to interrogate Ikkaku now that his captain is here and decides to withdraw as he orders Nemu to move out, which she complies with while respectfully nodding at Kenpachi on her way out. When Kenpachi notes that he seems to have gotten himself beaten up badly, Ikkaku questions if Kenpachi is really here just to visit him, prompting Yachiru to pop and reveal that they just got lost, to Ikkaku's surprise. Yachiru claims that they only wound up here by coincidence and informs Ikkaku that they were worried while calling him "baldy", which Ikkaku reiterates that he told her not to call him.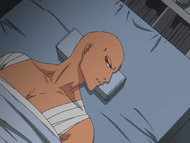 While Yachiru comes up with further variants of "baldy" to call Ikkaku, Kenpachi reveals that he heard Ikkaku lost. With Ikkaku apologizing for coming back despite the shame of his defeat, Kenpachi asks him if the Ryoka who defeated him is strong, leading Ikkaku to confirm this and describe Ichigo as a Shinigami with orange hair and a sword as long as his body with no guard or handle before detailing how he is headed toward the Shishinrō in Senzaikyū, which Kenpachi realizes means he is after Rukia Kuchiki. Ikkaku states that he described Kenpachi to Ichigo and warned him to be on the lookout for his captain after their earlier battle.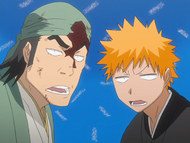 As Ikkaku observes that Kenpachi will likely enjoy a great fight with Ichigo if the latter heeded Ikkaku's words because he is still growing stronger despite his already considerable power, a grinning Kenpachi asks Ikkaku for Ichigo's name. Elsewhere, in a storage room, Hanatarō introduces himself to Ichigo and Ganju, who simultaneously declare that his name is hard to remember. Though a flustered Hanatarō claims that others tell him his name is easy to remember, Ichigo lists similar-sounding alternative names that stand out more while Ganju wonders why Hanatarō is casually introducing himself despite being their enemy, which Hanatarō has no answer for.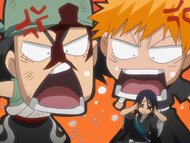 Ichigo demands to know why Ganju brought Hanatarō along, and when Ganju admits that he accidentally carried Hanatarō when they were fleeing earlier, an incredulous Ichigo questions if Ganju just picks up anything he finds lying on the ground, prompting Ganju to point out that Ichigo himself did not notice Hanatarō was there until just now. When Hanatarō requests that they stop fighting over him, Ichigo and Ganju angrily proclaim that no one is fighting over him in unison as Hanatarō reminds them that someone may find them if they raise their voices, astonishing Ichigo and Ganju as they quickly cover their mouths with their hands in response.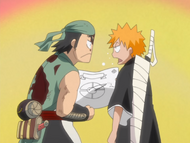 After confirming with Ganju that they are safe for the moment, Ichigo observes that they do not know which road to take in order to reach the white tower even if Ikkaku was right about Rukia being there. With Hanatarō expressing surprise at the mention of Rukia, Ganju pulls out a hand-drawn and simple map of their location while noting that they do not want to run into any captains on the way as Ichigo realizes that there are no roads on the map. Upon noticing Ganju's signature in the bottom left-hand corner, a bewildered Ichigo inquires if Ganju drew this himself, leading Ganju to defensively claim that it is better than them having nothing to work with at all.
Hanatarō attempts to draw their attention, but Ichigo tells him to shut up because they are strategizing as Ganju assures Hanatarō that he can go home because he will not be of much use to them. However, Ichigo is shocked when Hanatarō asks him if he is referring to Rukia Kuchiki, and when he sees Ichigo's reaction, Hanatarō observes that he was right before describing Rukia as being the sister of 6th Division Captain Byakuya Kuchiki who is being held in Senzaikyū and revealing that he knows a hidden way into the tower. Elsewhere, with Kenpachi running along a rooftop, Yachiru points out that he seems to be happier than she has seen him in a long time.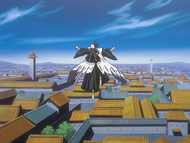 Affirming this, Kenpachi recounts how Ichigo survived 3rd Division Captain Gin Ichimaru, defeated Ikkaku, and was described as strong and becoming stronger still by Ikkaku. As he wonders where Ichigo is, Kenpachi proclaims that he is waiting for Ichigo and leaps off the edge of the roof.

Next Episode Preview
Greeting the audience, Kon questions why he has not had his turn yet and demands to know if he is being listened to, only for Ichigo Kurosaki to assert that he will never get his turn if he keeps making a fuss as Kon nervously promises to wait patiently and asks that they treat him kindly.
Characters in Order of Appearance
Fights
Powers and Techniques Used
Quincy Techniques:
Fullbring:
Brazo Derecha de Gigante (巨人の右腕 (ブラソ・デレチャ・デ・ヒガンテ), Buraso Derecha de Higante; Spanish and Japanese for "Right Arm of the Giant")
Spirit Weapons:
Zanpakutō released:
Shikai: