Hello and welcome to the Bleach Wiki, a wiki dedicated to the Bleach series by Tite Kubo! We hope you enjoy your stay and help us by making new pages or contributing to the existing 2,423 pages we have here on the wiki!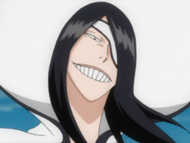 Nnotra Gilga is 5th Espada and one of Aizen's most powerful warriors. His aspect of death is Despair.
When Ichigo Kurosaki and his friends invade Hueco Mundo, Nnoitra along with the rest of the Espada is there to prevent the rescue of Orihime Inoue. After Yasutora Sado defeats the 107th Arrancar, he becomes prey to Nnoitra and is easily dispatched. Having found no challenge he sets his sights on a weakened Ichigo, whom he easily overpowers. However, before he can finish off Ichigo, Nnoitra encounters a powerful opponent when Kenpachi Zaraki arrives and engages the Espada in a bloody duel.
Main article: Nnoitra Gilga
"Excellent, Kenpachi Zaraki. With this, it's over. Heh. Like a child. Why are you so sad? You recovered your real strength and were able to defeat me. I do understand that many fights will go back to being boring little games to you. But now you have enemies to fight, friends to argue with and more importantly your 'partner', that awakened together with you. All that I've been holding so far, I leave it to you. I don't have anything any more. The name Kenpachi that I couldn't give you that time, finally left my hands too. I'm going to die, Kenpachi Zaraki. Celebrate in my place. Aah. I feel so much happiness dying knowing that I finally fulfilled my duty." - Retsu Unohana to Kenpachi Zaraki in chapter 527.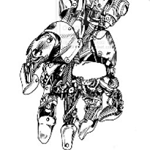 We have a NEW Featured User. It's Kman111 who has been here since 2015. He is usually seen reverting vandalism or bad, policy breaking edits along with other work including grammar work. He's relatively new but has made a big impression on us and the site as a whole. Check out what he has to say here where the team interviews him!
If you see this, your JavaScript might be disabled or DiscordIntegrator plugin isn't working. If the latter, please contact a wiki administrator.

Which would you most like to see?

 
Community content is available under
CC-BY-SA
unless otherwise noted.