Hello and welcome to the Bleach Wiki, a wiki dedicated to the Bleach series by Tite Kubo! We hope you enjoy your stay and help us by making new pages or contributing to the existing 2,440 pages we have here on the wiki!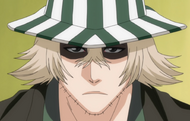 Kisuke Urahara is a Shinigami residing in Karakura Town. He is a former captain of the 12th Division of the Gotei 13. He is also the founder and first president of the SRDI. His lieutenant at the time was Hiyori Sarugaki.
After assisting his comrades who were caught up in Sōsuke Aizen's experiments, he went into exile in the Human World with them, Tessai Tsukabishi and Yoruichi Shihōin. For the next hundred years he operated as a shady businessman. He aided Rukia Kuchiki when she lost her Shinigami powers to Ichigo Kurosaki and helped the latter to rescue her. He later played a key role in the defeat and capture of Aizen, the restoration of Ichigo's powers and the Wandenreich invasion of Soul Society.
Main article: Kisuke Urahara
"You know, the fact that before acting you think about aunt, Quincy, the future, and many other things is something that I really like about you. But I'm not you. To me, "caring about myself" means to do everything in my power, every day. If today I don't do what I can because of some custom and someone dies because of it, I won't be able to forgive myself tomorrow." - Masaki Kurosaki to Ryūken Ishida in chapter 531.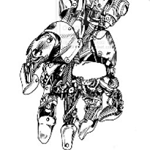 We have a NEW Featured User. It's Kman111 who has been here since 2015. He is usually seen reverting vandalism or bad, policy breaking edits along with other work including grammar work. He's relatively new but has made a big impression on us and the site as a whole. Check out what he has to say here where the team interviews him!
If you see this, your JavaScript might be disabled or DiscordIntegrator plugin isn't working. If the latter, please contact a wiki administrator.

Which would you most like to see?

 
Community content is available under
CC-BY-SA
unless otherwise noted.