Hello and welcome to the Bleach Wiki, a wiki dedicated to the Bleach series by Tite Kubo! We hope you enjoy your stay and help us by making new pages and/or contributing to the existing 2,527 pages we have here on the wiki!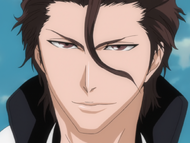 Sōsuke Aizen is a Shinigami and former captain of the 5th Division of the Gotei 13 who was at the centre of a grand conspiracy in Soul Society.
Shortly after the Ryoka arrive in Seireitei, Aizen is found dead and suspicion is initially thrown on Gin Ichimaru. However, upon reading a letter left by Aizen, his lieutenant, Momo Hinamori, begins to believe that it was Tōshirō Hitsugaya who killed Aizen. This causes her to turn against him and attempt to battle him. On the day of execution of Rukia Kuchiki it is revealed that Aizen is alive and that it was he who had manipulated events to arrange the execution of Rukia and attempted to get Hinamori killed by her childhood friend Hitsugaya through manipulation. Aizen attacks numerous Shingiami, including Hinamori and reveals the true power of his Zanpakutō, Kyōka Suigetsu. Upon acquiring his true goal, the Hōgyoku, Aizen abandons Soul Society for Hueco Mundo along with his accomplices Ichimaru and Kaname Tōsen and consolidates his Arrancar army.
Aizen then leads a war to defeat the Gotei 13, splitting their forces in two, before traveling to the real Karakura Town in order to gain access to the Soul King Palace. However, Ichigo chases after him and engages the former captain in a final duel.
Main article: Sōsuke Aizen
If something sad happened in your life, I would be there for you. If something happy happened in my life, I would share it with you. If you strayed from the path, I would admonish you. If you committed an error, I would forgive you. If you found yourself in a predicament, I would provide a foundation on which you could stand. All in order to make this man that had lost his love for the world... be able to love the world once more. -- Sajin Komamura reflecting on his friendship with Kaname Tōsen in Chapter 386.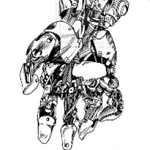 We have a NEW Featured User. It's Kman111 who has been here since 2015. He is usually seen reverting vandalism or bad, policy breaking edits along with other work including grammar work. He's relatively new but has made a big impression on us and the site as a whole. Check out what he has to say here where the team interviews him!
If you see this, your JavaScript might be disabled or DiscordIntegrator plugin isn't working. If the latter, please contact a wiki administrator.

Affiliated Wikis, Projects, and Channels
Upcoming Anime Highlights