Hello and welcome to the Bleach Wiki, a wiki dedicated to the Bleach series by Tite Kubo! We hope you enjoy your stay and help us by making new pages and/or contributing to the existing 2,517 pages we have here on the wiki!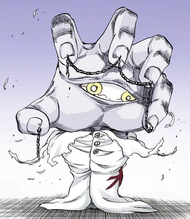 Pernida Parnkgjas is a Sternritter and a member of Yhwach's Schutzstaffel with the Schrift "C" - "The Compulsory". It is also the left arm of the Soul King.
Like Mimihagi, Pernida was separated from the Soul King at some point in the past, and under unknown circumstances joined the Wandenreich, where it was made a Quincy by Yhwach. It later joined the battle against the Royal Guard when Yhwach summoned it alongside the other Schutzstaffel to fight them, only to be taken out in short order by Ōetsu Nimaiya, which forced Yhwach to revive it with Auswählen. After Yhwach absorbed the Soul King, Pernida and the other Schutzstaffel are sent out to fight the invading Shinigami, where Pernida confronts and begins battling Mayuri Kurotsuchi and Kenpachi Zaraki.
Main article: Pernida Parnkgjas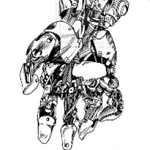 We have a NEW Featured User. It's Kman111 who has been here since 2015. He is usually seen reverting vandalism or bad, policy breaking edits along with other work including grammar work. He's relatively new but has made a big impression on us and the site as a whole. Check out what he has to say here where the team interviews him!
If you see this, your JavaScript might be disabled or DiscordIntegrator plugin isn't working. If the latter, please contact a wiki administrator.

Affiliated Wikis, Projects, and Channels
Upcoming Anime Highlights