Hello and welcome to the Bleach Wiki, a wiki dedicated to the Bleach series by Tite Kubo! We hope you enjoy your stay and help us by making new pages or contributing to the existing 2,365 pages we have here on the wiki!
Zangetsu is the being who originally claimed to be the spirit of Ichigo Kurosaki's Zanpakutō, but was later revealed to be the manifestation of his Quincy powers.
Having the appearance of Yhwach from 1000 years ago, Zangetsu only wishes to protect Ichigo, and has offered counsel and guidance on several occasions.
Main article: Zangetsu (Quincy Powers)
"I mean if I was gonna make you die, I'd reckon I'd have to try out way too many different tactics. Sorry, but I'm just awful with that kind of finicky stuff. I like to get things over in a flash y'know? You can go fight with someone else. Well then, later!" - Askin Nakk Le Vaar seemingly backing out of his fight with Mayuri Kurotsuchi.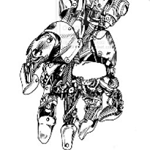 We have a NEW Featured User. It's Kman111 who has been here since 2015. He is usually seen reverting vandalism or bad, policy breaking edits along with other work including grammar work. He's relatively new but has made a big impression on us and the site as a whole. Check out what he has to say here where the team interviews him!
Which would you most like to see?